Victoria Colvin and Patrick Are Best in George Morris Excellence in Equitation
March 24th, 2014 8:49 AM |
Comments Off

on Victoria Colvin and Patrick Are Best in George Morris Excellence in Equitation
Press Release
Victoria Colvin of Loxahatchee, FL, added yet another accolade to her long list of accomplishments with a win in the George Morris Excellence in Equitation, presented by Alessandro Albanese, during week eleven of the FTI Consulting Winter Equestrian Festival (FTI WEF). Colvin, 16, topped the class with Patrick, a 12-year-old Warmblood gelding leased by Dr. Betsee Parker and owned by Catherine Tyree. Also showing on Friday, Germany's David Will and Black Jack 163 won the $34,000 G&C Farm 1.40m speed class.
FTI WEF week eleven, sponsored by Artisan Farms LLC, continues through March 23, 2014. The $100,000 Engel & Völkers Grand Prix CSI 4* will be the feature event on Saturday night at 8 p.m. The grass derby field at The Stadium at PBIEC will host the $50,000 Artisan Farms Young Rider Grand Prix Series Final (8 a.m.) and the $84,000 Suncast® 1.50m Championship Jumper Classic (2 p.m.) on Sunday.
Live streaming of Saturday night's $100,000 Engel & Völkers Grand Prix CSI 4* will be featured on The Chronicle of the Horse website. The link to view the live streaming is: http://www.chronofhorse.com/article/2014-100000-engel-volkers-grand-prix-live
A special ceremony will be held tomorrow evening before the start of the $100,000 Engel & Völkers Grand Prix to honor Anne Heyman, who passed away from a fall at the FTI WEF this season. Friends and family are gathering to honor Anne, who was known for her incredible philanthropy and love for her family and horses. Everyone is invited to watch a video in her honor and remember Anne and her work. Save the Date for a benefit and concert for Anne's 'village,' the Agahozo-Shalom Youth Village in Rwanda, which will be held on September 13 at Double H Farm in Ridgefield, CT, during the American Gold Cup. For more information, email annesnight@gmail.com.
Equitation competition in the George Morris Excellence in Equitation was held over two rounds and a final test, with the top twelve riders being called back for round two. The top four from round two were then asked to return to test to determine the final standings.
The judges for the class included two panels and a schooling judge. Panel 1 consisted of Cynthia Hankins and Katie Prudent. Panel 2 included Alex Jayne and Anne Kursinski. Karen Golding served as schooling judge.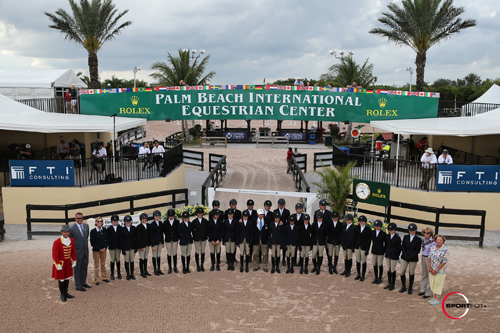 George Morris Excellence in Equitation Group Photo. Photo by Sportfot.

After round one, Colvin and Patrick were ranked second with a score of 93.5. The top score in round one belonged to eventual third place finisher Megan MacPherson and Class Action. MacPherson and Class Action returned to round two to earn a score of 80 for third place in the standings, where they remained after the test.
Colvin earned a second round high score of 92.5 before being chosen as the winner of Friday evening's class. Second place went to Michael Hughes and Curtis, who earned scores of 91 and 84.5 in the first and second rounds, respectively. Madison Goetzman rounded out the top four with Stallone. Goetzman climbed from tenth in the standings to fourth in round two with a score of 85. The pair scored an 85.75 in the first round.
Prior to the final test, two special awards were presented to the four-legged competitors of the class. Clearway, owned by Heritage Farm and ridden by Caitlin Boyle, was announced as the Best Equitation Horse for the second year in a row. Heritage Farm received a ceramic bowl courtesy of Alessandro Albanese for the award. The Best Turned Out Horse was Charlie Z, ridden by Daisy Farish and also owned by Heritage Farm. Charlie Z's groom, Umberto Balades, was also recognized for his hard work with an Alessandro Albanese jacket.
Colvin also received a bevy of prizes from class sponsor Alessandro Albanese, taking home a custom show jacket, show shirt, and breeches, as well as a championship jacket from Equestrian Sport Productions. Colvin's family was also presented with a Nespresso machine for their contributions to their daughter's win, as was second place finisher Hughes' family. Trainers Missy Clark and John Brennan received an Alessandro Albanese jacket and tureen bowl for her role in the top rider's victory.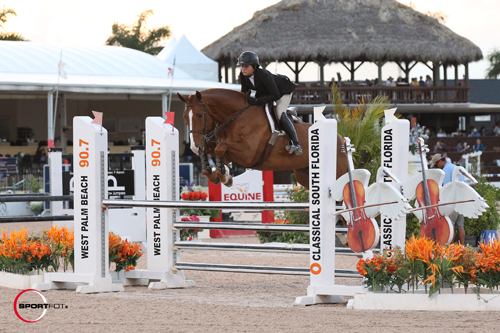 Victoria Colvin and Patrick. Photo by Sportfot.

Colvin, who trains with Missy Clark and John Brennan of North Run, only began riding Patrick at the beginning of the year. While their partnership is still developing, Colvin is already completely enamored with the lovable chestnut. "I still don't know him very well, but he's just perfect. I love him!" Colvin smiled.
Of the decision to leave her other top equitation mount, Stallone VDL, in the barn and ride Patrick, Colvin said, "[Patrick] is a little easier. They're both really easy, but he's just a tad easier and I thought he would be great in this class. I rode [Stallone] on Thursday, and we thought he would be way too quiet to do three tests."
One of the trademarks of the George Morris Excellence in Equitation class is the restriction for riders to prepare themselves completely unassisted by their trainers. Riders are totally cut-off from communication with their trainers, even turning in their cell phones to the in-gate during the rider's meeting. For Colvin, the rule represents an exciting challenge.
"I love it! Not that I don't love my trainers. I think it's a really fun class to be able to see how you do by yourself," Colvin pointed out.
Colvin admitted to feeling a little bit of pressure going into the test ranked first, but was relieved when she heard what the judges were requesting. Riders were asked to canter fence one, turn right for a bending line to fence four, then turn back to the left over fence ten. Riders than hand galloped fence eleven before returning to a trot over the final fence.
"I felt like the test was much easier than the second round," Colvin noted. "It had no counter canter or walk jumps, but I was nervous. I don't know [Patrick] very well, so I don't know what he does at everything. He's such a great horse; he went right around for me."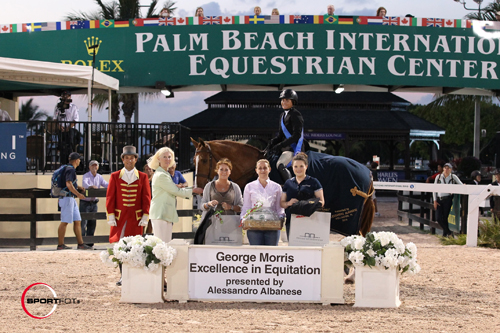 Victoria Colvin and Patrick with ringmaster Gustavo Murcia, Dr. Betsee Parker, Cristina Pozzati of Alessandro Albanese Italy, Michelle Lucey, business manager for Alessandro Albanese, and Claire Moriarty of Horseware Ireland. Photo by Sportfot.

Second place finisher Hughes, who also trains with North Run, echoed Colvin's sentiments, especially after a second round that asked several challenging questions. "When they announced the test, we had done the majority of it in the first round, so I knew it was going to be a little bit easier than the second round," Hughes explained.
Of the second round course, Hughes commented, "I was a little bit worried about the walk jump. I had never walked a jump with Curtis before. He was good about it. I need to be a bit more patient. For me, I was most worried about the trot jump. It was such a short line to come off the forward eight strides, but he was great at it."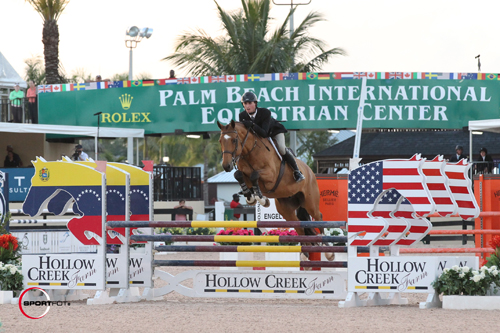 Michael Hughes and Curtis. Photo by Sportfot.

Trainer Missy Clark enjoyed the one-two finish for North Run in the class, and was especially pleased to see her two star pupils do so well. "They were great. They've been so solid all year, and they're both such great riders and amazing competitors. It's so fun to work with two kids like this. They're unusual," Clark said.
Clark never doubted either Colvin or Hughes' ability to prepare themselves, and enjoyed sitting back and watching them shine. "It was great, I got to sit down and I had my dogs with me and we sat back and watched. They do everything from grand prix to hunters, and they've been in the trenches for years, so I had complete confidence in both of them," Clark smiled.
Class namesake and American show jumping legend George Morris was on hand to offer his commentary on the evening's competition. The multiple tests of rider ability in round two were reasonable in Morris' opinion, but he acknowledged that they tripped up many young riders.
"This was an interesting class. I was happy with the second round. The tests are all very doable. Trotting fences, walking fences, counter cantering, flying changes, they're all doable, but caused quite a distraction. It was very difficult [for riders]," Morris explained.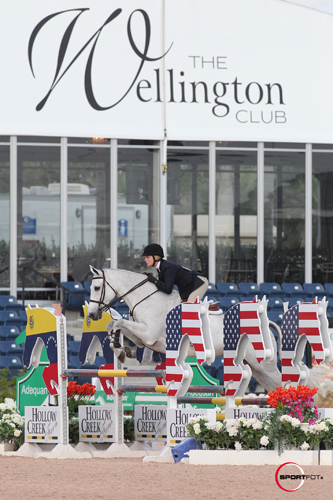 Megan MacPherson and Class Action. Photo by Sportfot.

While Morris wasn't judging, he still provided input for the course design. The walk jump certainly caught a few riders off guard, but Morris was unsurprisingly full of praise for the old-school element.
"That's a very, very, old [test]. I don't know what number test it is, but that's been in the tests forever," Morris described. "Victor Hugo-Vidal and Ronnie [Mutch], those old judges, myself, every class they tested [in the past]. Every 14 – 18 open [equitation class], even under 14, they tested. Tests educate the riders and their horse training."
Morris was happy to see Hughes and Colvin, graduates of his 2014 Horsemastership Training Session, continue to succeed at the top level of their sport. "It's not that you're partial, but you're pleased to see results. You don't like, as a teacher, wasting your time. I don't like wasting my time," Morris commented. "They're great students. Great future."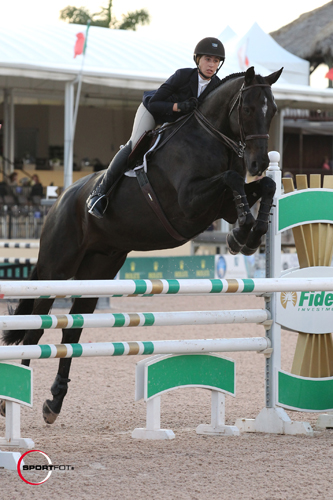 Madison Goetzmann and Stallone. Photo by Sportfot.

Competition for week eleven of the FTI WEF, sponsored by Artisan Farms, continues on Saturday afternoon with the Equitation 15 – 17 division in Ring 8 of the Main Grounds of the Palm Beach International Equestrian Center (PBIEC).
Final Results: George Morris Excellence in Equitation presented by Alessandro Albanese
Horse, Rider, Owner
1 PATRICK VICTORIA COLVIN CATHERINE TYREE, LEASED BY DR. BETSEE PARKER
R1/J1 90.00 R1 SCHOOLING 6.00
R1/J2 91.00 R1 TOTAL 93.50
R2/J1 70.00 R2 SCHOOLING 6.00
R2/J2 93.00 R2 TOTAL 84.50
OVERALL SCORE 178.00
2 CURTIS MICHAEL HUGHES MISSY CLARK & NORTH RUN
R1/J1 88.00 R1 SCHOOLING 5.00
R1/J2 89.00 R1 TOTAL 91.00
R2/J1 83.00 R2 SCHOOLING 6.00
R2/J2 80.00 R2 TOTAL 84.50
OVERALL SCORE 175.50
3 CLASS ACTION MEGAN MAC PHERSON MERIDIAN PARTNERS LLC
R1/J1 91.00 R1 SCHOOLING 6.00
R1/J2 91.00 R1 TOTAL 94.00
R2/J1 75.00 R2 SCHOOLING 3.00
R2/J2 82.00 R2 TOTAL 80.00
OVERALL SCORE 174.00
4 STALLONE MADISON GOETZMANN MADISON GOETZMANN
R1/J1 79.50 R1 SCHOOLING 5.00
R1/J2 87.00 R1 TOTAL 85.75
R2/J1 81.00 R2 SCHOOLING 5.00
R2/J2 84.00 R2 TOTAL 85.00 1
OVERALL SCORE 70.75
5 MONTERREY KELLI CRUCIOTTI KELLI CRUCIOTTI
R1/J1 86.00 R1 SCHOOLING 6.00
R1/J2 82.00 R1 TOTAL 87.00
R2/J1 76.00 R2 SCHOOLING 5.00
R2/J2 76.00 R2 TOTAL 78.50
OVERALL SCORE 165.50
6 BEAU VAN HET KEYERSHOF SPENCER SMITH SPENCER SMITH
R1/J1 87.00 R1 SCHOOLING 4.00
R1/J2 89.00 R2 TOTAL 90.00
R2/J1 55.00 R2 SCHOOLING 6.00
R2/J2 78.00 R2 TOTAL 69.50
OVERALL SCORE 159.50
7 VOCAS LILLY ULRICH LILLY ULRICH
R1/J1 83.50 R1 SCHOOLING 5.00
R1/J2 80.00 R1 TOTAL 84.25
R2/J1 71.00 R2 SCHOOLING 6.00
R2/J2 61.00 R2 TOTAL 69.00
OVERALL SCORE 153.25
8 KASKADE T.J. O'MARA WALSTIB STABLES LLC
R1/J1 78.00 R1 SCHOOLING 4.00
R1/J2 86.00 R1 TOTAL 84.00
R2/J1 60.00 R2 SCHOOLING 6.00
R2/J2 60.00 R2 TOTAL 63.00
OVERALL SCORE 147.00
9 CLEARWAY CAITLIN BOYLE HERITAGE FARM LLC
R1/J1 84.00 R1 SCHOOLING 5.00
R1/J2 92.00 R1 TOTAL 90.50
R2/J1 50.00 R2 SCHOOLING 6.00
R2/J2 50.00 R2 TOTAL 53.00
OVERALL 143.50
10 INCALAN SOPHIE SIMPSON MISSY CLARK & NORTH RUN
R1/J1 89.00 R1 SCHOOLING 6.00
R1/J2 90.00 R1 TOTAL 92.50
R2/J1 37.00 R2 SCHOOLING 6.00
R2/J2 40.00 R2 TOTAL 41.50
OVERALL SCORE 134.00