Portuguese Bend National Horse Show Approaching Fast
August 20th, 2013 10:46 AM |
Comments Off

on Portuguese Bend National Horse Show Approaching Fast
press release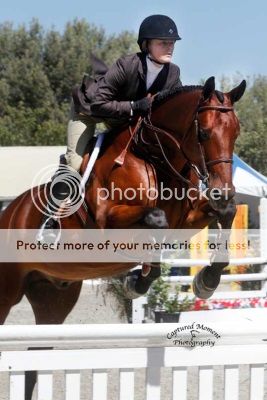 Blake Lindsley pilots Liolani to the win in the PCHA Adult Medal Final at the 2012 Portuguese Bend National Horse Show
Photo: Captured Moment Photography 
The ever popular Portuguese Bend National Horse Show (Sep 6-8), a benefit show for the Children's Hospital of Los Angeles, is just weeks away. The show promises to be better than ever this year with increased prize money, a special presentation for the show's recognition as a USEF Heritage Horse Show, plus the annual offering of medal finals, classics, and more. This year's theme is "Taking Strides for Kids."
Since its inception, the Portuguese Bend National Horse Show has raised nearly $13 million for the Children's Hospital of Los Angeles. This A rated USEF, LAHJA, and PCHA show runs at Ernie Howlett Park in Rolling Hills Estates, California.
Jumper riders will compete for even bigger prize money checks in the $10,000 Barby Hartwig Hereford High/Low Junior/Amateur Owner Jumper Classic (1.30/ 1.35M), sponsored by Mark Hereford, and the $15,000 Seahorse Open Jumper Classic. Equitation riders will have their chance to show what they can do in the PCHA Horsemanship Medal Finals for riders 14 & Under and the Victor Hugo-Vidal PCHA Adult Horsemanship Finals for riders 35 and over.
In 2012, the Portuguese Bend National Horse Show was honored with the Heritage Designation by the USEF, and USEF President Chrystine Tauber, who will judge at and this year's show, will make a formal presentation at the afternoon performance on September 8. USEF Heritage Competitions must have been in existence for 25 years or more, have promoted and grown equestrian sport, and made contributions to the community outside the show by promoting sportsmanship and competition. These are all things Portuguese Bend has delivered on in spades.
"We are honored to receive the Heritage Competition designation from the USEF and feel privileged to have Chrystine Tauber make the official presentation at our Portuguese Bend National Horse Show," commented Bette Moen, President of the Peninsula Committee Children's Hospital, speaking on behalf of Horse Show Chairman Val Kelly as well as herself. "We will continue to work diligently to maintain our commitment to the development and promotion of the sport."
As USEF CEO John Long explained, "These shows have become a part of the fabric of the American showing scene.  With their endurance, dedication to philanthropic efforts, and impact on their communities, they are perfect examples of what we look for when designating Heritage Competitions."
For more information on the Portuguese Bend National Horse show, visit their website or contact the show manager at robinserfass@cox.net or 760-753-0431. The prize list is available for download at www.signaturesport.net, and exhibitors may enter online at www.horseshowtime.com.