McLain Ward and Zander Master $34,000 Ruby et Violette WEF Challenge Cup Round 10
March 14th, 2014 9:14 AM |
Comments Off

on McLain Ward and Zander Master $34,000 Ruby et Violette WEF Challenge Cup Round 10
Press Release
Week ten of the 2014 FTI Consulting Winter Equestrian Festival (FTI WEF) continued on Thursday with a win for McLain Ward (USA) and Zander in the $34,000 Ruby et Violette WEF Challenge Cup Round 10. The win marks the 25th 'WEF Challenge Cup' victory for Ward over the years of his illustrious career.
FTI WEF week 10, sponsored by Horseware Ireland, runs March 12-16, 2014. The week will feature the $34,000 Spy Coast Farm 1.45 on Friday, the $125,000 Horseware Ireland Grand Prix CSI 3* on Saturday, and the $34,000 Suncast® 1.50m Championship Jumper Classic on Sunday. The FTI WEF, held at the Palm Beach International Equestrian Center (PBIEC) in Wellington, FL, features 12 weeks of world-class competition through March 30, awarding $8 million in prize money.
Great Britain's Richard Jeffery set the track for Thursday's Challenge Cup competition that yielded 17 clear rounds of 85 starters in round one. Two entries opted out of the jump-off, and Jeffery saw eleven double clears out of 15 over the short course.
For his remarkable 25th WEF Challenge Cup victory, Ward guided his ten-year-old KWPN gelding Zander (Cantos x Saygon) to the winning time of 34.36 seconds, setting an uncatchable pace as the second entry in for the jump-off.
McLain Ward and Zander. Photo by Sportfot.

Try as she might, Lauren Hough (USA) was not quite quick enough to catch Ward's time with Ohlala, finishing second in 34.71 seconds. Ramiro Quintana (ARG) and St. Bride's Farm's Whitney finished third in 35.59 seconds. Kevin Babington (IRL) and Shorapur placed fourth in 35.64 seconds.
"I actually think sometimes in those big jump-offs, when you know there are going to be a lot of double clears and a lot of fast horses, that is not the worst thing when you know your horse," Ward said of going early. "The other night in the grand prix I went late, and I was trying to do something impossible. Today I just kind of rode my round. I know he is a quick horse. I had a few nail biting moments; Lauren was close, but it worked out in our favor."
"I have a very big stride. I think I have a bigger stride than Lauren (with Ohlala)," Ward detailed of his winning round. "I was able to do four strides to the skinny and then I had a good rollback. It showed up well. She lost her horse a little bit on the rollback, but it was a hair."
This is the first class that Zander has won during the 2014 season, but Ward feels like he is finishing out the winter well. "He had a little bit of a rough start to the circuit. He had a small injury and we were just a little behind, but the Nations Cup week he was great," Ward noted. "He was second in the WEF (that week) and had other good ribbons. The last three shows, he has been really solid and seems to be in pretty good form, so we will try to keep going in that direction."
McLain Ward and Zander in their winning presentation with ringmaster Gustavo Murcia. Photo by Sportfot.

Ward also commented on the difficult job for Richard Jeffery, who had 96 starters in the class originally (85 showed). "Richard did a good job," Ward acknowledged. "It is a tough thing. It is tough for the riders, and it is tough for the course designers. It's supposed to be a 3*, but you have 90 plus entries, and I thought it was smart. It was difficult, hard to jump a clear round. When they see 17 clear, they think it must have been easy, but 17 clear out of 96 isn't a very high percentage. He didn't over tax them as well, you didn't see a lot of large, large scores, so I thought he got it pretty good."
An $8,000 G&C Farm 1.45m was also held on Thursday with a win for Eiken Sato (JPN) and Stephex Stables' Soory de l'Hallali. Jumper competition continues in the International Arena on Friday with the $34,000 Spy Coast Farm 1.45m.
Final Results: $34,000 Ruby et Violette WEF Challenge Cup Round 10
1. ZANDER: 2004 KWPN gelding Cantos x Saygon
MCLAIN WARD (USA), Grant Road Partners: 0/0/34.36
2. OHLALA: 2003 Swedish Warmblood mare by Orlando x Cardento
LAUREN HOUGH (USA), The Ohlala Group: 0/0/34.71
3. WHITNEY: 2003 KWPN mare by Indoctro x Concorde
RAMIRO QUINTANA (ARG), St. Bride's Farm: 0/0/35.59
4. SHORAPUR: 2005 Hanoverian mare by Stakkato Gold x Drosselklang II
KEVIN BABINGTON (IRL), Shorapur LLC: 0/0/35.64
5. NOUVELLE: 2004 KWPN mare by Solitair x Contango
LAURA KRAUT (USA), Evita Group: 0/0/36.08
6. VINDICAT W: 2002 KWPN gelding by Guidam x Libero H
JESSICA SPRINGSTEEN (USA), Stone Hill Farm: 0/0/36.39
7. FANANKA A: 2005 BWP mare by Chin Chin x Kannan
EIKEN SATO (JPN), Stephex Stables: 0/0/36.45
8. ATHENA: 2000 Swedish Sport Horse mare by Toulon x Capital
KELSEY THATCHER (USA), Pony Lane Farm: 0/0/36.56
9. ROUNDTHORN MADIOS: 2002 Irish Sport Horse gelding by Condios x Clover Hill
LAUREN TISBO (USA), Tequestrian Farms LLC: 0/0/36.84
10. JUVINA: 2001 Austrian Warmblood mare by Cassini I x Grannus
GEORGINA BLOOMBERG (USA), Gotham Enterprizes, LLC: 0/0/39.89
11. FREESTYLE DE MUZE:  2005 BWP gelding by Lord Z x Cento
RICHIE MOLONEY (IRL), Equinimity LLC: 0/0/44.92
12. DIVA II: 2005 AES mare by Kannan x Berlioz
BEN MAHER (GBR), Liz Edgar: 0/4/37.16
Maggie Jayne and Fredrick Top Perfect Products High Performance Hunters
Maggie Jayne of Elgin, IL, and Pony Lane Farm's Fredrick bested the Perfect Product High Performance Hunter division on Thursday morning at the FTI WEF. The pair were neck and neck with reserve champions Point Being and Kelley Farmer, who finished just four points behind Jayne and Fredrick.
Fredrick won three over fences classes and the under saddle and placed second and fourth in the remaining two over fences rounds with Jayne in the irons. Farmer and Point Being won two over fences classes and placed second in the others in addition to finishing fourth under saddle.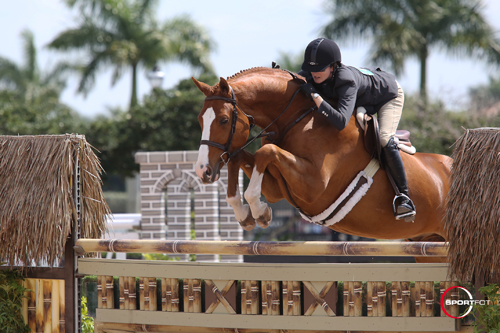 Maggie Jayne and Fredrick. Photo by Sportfot.

Jayne has ridden Fredrick, a nine-year-old Belgian Warmblood gelding by Couleur Rouge, for nearly three years and is quite pleased with his early success in the high performance division.
"This is the second week doing high performance, and he's been really good at it. He likes the bigger jumps," Jayne explained.
Fredrick also pulls double-duty in the junior hunter ring with Madeline Thatcher, an easy adjustment for the laidback chestnut. Jayne admitted the gelding can have a lazy streak, so the bigger jumps earlier in the week don't light him up before Thatcher takes over the ride.
"He's beautiful and he moves well and he jumps well, and he's quiet and relaxed. He's the total package!" Jayne described. "He can be a touch spooky, but I think that makes him jump carefully."
Fredrick's spooky side showed itself a bit in Jayne's first course on Friday, but it didn't affect them too much; the pair placed second with an 88. They came back for the final course and laid down a high score of 90, which Thatcher noted was one of their better scores together.
"This is only the second week we've done the high performance, and it's definitely our best score in that. He's normally pretty consistent by the second day. The last class is usually his best class," Jayne pointed out.
She continued, "I'm just happy that he's stayed so consistent over the years, and he's going to have a bright future. He's so easy [to ride] and so easy on himself."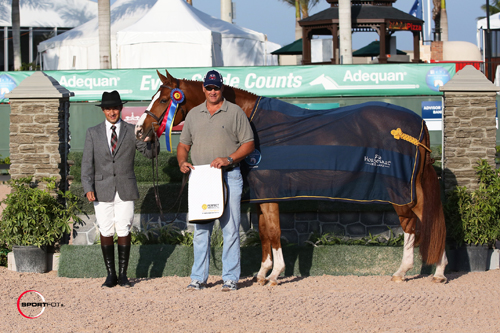 Fredrick in his winning presentation with Alex Jayne and ringmaster Gustavo Murcia. Photo by Sportfot.

Fredrick has easily stepped up the challenge of higher fences, and his niche is more conventional hunter classes. Fredrick will continue to compete in the high performance hunters with Jayne as well as step into the ring with Thatcher as her trusted junior hunter.