Maher Reigns Supreme in $125,000 Horseware Ireland Grand Prix CSI 3*
March 17th, 2014 10:44 AM |
Comments Off

on Maher Reigns Supreme in $125,000 Horseware Ireland Grand Prix CSI 3*
Press Release
British superstar Ben Maher added an unprecedented fifth grand prix win to his tally at this year's FTI Consulting Winter Equestrian Festival (FTI WEF) with a win in Saturday night's $125,000 Horseware Ireland Grand Prix CSI 3* aboard Jane Clark's Urico. Competing in the tenth week of competition at the Palm Beach International Equestrian Center (PBIEC) in Wellington, FL, Maher topped Lauren Hough (USA) and Ohlala, and Daniel Deusser (GER) riding Fyloe v/h Claeyssenhof, who finished second and third in a six-horse jump-off.
FTI WEF week 10, sponsored by Horseware Ireland, concludes on Sunday with the $34,000 Suncast® 1.50m Championship Jumper Classic. The FTI WEF features 12 weeks of world-class competition through March 30, awarding $8 million in prize money.
Richard Jeffery (GBR) set the course for 45 competitors in Saturday night's $125,000 Horseware Ireland Grand Prix CSI 3*, yielding six clear rounds to advance to the jump-off, where all six then completed double clear rounds and raced against the clock for top honors. Continuing the streak of a lifetime, Ben Maher mastered yet another grand prix track, speeding through the course last to go with Urico in the winning time of 41.01 seconds.
Maher topped Lauren Hough and Ohlala's time of 41.25 seconds to put the pair in second place. Daniel Deusser and Stephex Stables' and Double H Farm's Fyloe v/h Claeyssenhof stopped the clock in 41.53 second to finish third.
Also competing in Saturday night's jump-off, Peter Wylde (USA) and Federico Fernandez's Zorro were first to go, and set the fourth place time of 42.43 seconds. Lorenzo de Luca (ITA) and Mike Collins' Zoe II finished fifth in 42.87 seconds, and Georgina Bloomberg (USA) guided Gotham Enterprizes' Juvina to the sixth place prize in 46.73 seconds.
Ben Maher and Urico. Photo by Sportfot.

Maher has been on an incredible roll in Wellington and kept the winning streak alive on Saturday night. So far, he has won week one's $30,000 Mar-a-Lago Club Grand Prix with Kavanagh IV, week three's $125,000 Fidelity Investments Grand Prix CSI 3* with Cella, week five's $370,000 FEI World Cup Grand Prix CSI-W 5* presented by Rolex with Cella, and week eight's $150,000 Grand Prix CSIO 4* presented by Wellington Equestrian Realty with Urico. Urico also won week five's $125,000 Ruby et Violette WEF Challenge Cup Round 5 Section A in a California Split.
"It is unbelievable," Maher smiled on Saturday night. "I am on a lucky run right now, and Urico felt great. We saved him specifically for this class this week. Luckily, I was pre-qualified, and he just jumped a training round earlier in the week."
"He was quite fresh tonight under the lights," Maher noted. "It seemed like a big atmosphere. I thought it was going to be a bit quieter tonight, but it was quite popular. The course was very difficult; probably one of the most technical courses we have had here and it caused a lot of problems all over. It was not a big course, but very technical and it just felt very hard. Then the jump-off was flowing. I saw Daniel go. I had the lucky draw again to watch all of the riders go, and Lauren was very quick. I just did what I could do, and kind of wanted to get to the last fence as fast as possible. I said to Lauren, it looked like it was coming in slow motion, and luckily I was just fast enough."
Urico's other two wins this season have each been during the daytime, so Maher had the added challenge of the lights and atmosphere to take into consideration in his preparation for the night class.
"I think all the horses are different under the lights," Maher pointed out. "If they are experienced enough, I think they come alive and jump sharper and better, and I think good horses rise to the occasion with a great atmosphere. It just seems great fun every Saturday night. It goes well and everyone really seems to be enjoying it here. It is always nice when the crowd gets behind you in the jump-off."
Speaking of the jump-off, Maher added, "I have no idea where I got the time over Lauren. It was one of those jump-offs where I met every jump where I wanted to meet them. I had quite a tight turn back to the wall. Urico is probably one of the fastest horses we have in the stables. He is incredibly fast before, over and after the jump, so I think he gains time everywhere. I tried not to panic when I saw Lauren go. I just did what I had to do and tried not to make a mistake."
Maher has put a lot of hard work into forming a solid partnership with Urico since they began competing together last winter and has seen his efforts pay off this year.
"It's always fantastic to win a class, and especially on Urico," he stated. "We are still trying new things all the time; we're testing him, and the other week it was during the day. This was under the lights, so that was nice to get that out of the way and just to get the consistency. He's a really exciting horse to ride. He wants to be so competitive, he wants to win, and you just have to keep him quiet enough. He had quite a lot of work today because I knew he would be fresh and excited tonight. I am enjoying a great streak for now, and at some point it's going to change for sure. We lose a lot more than we win in our sport, and at the moment it's going my way, so I just enjoy great horses, great support from Jane and the team, and make the most of it while it's happening."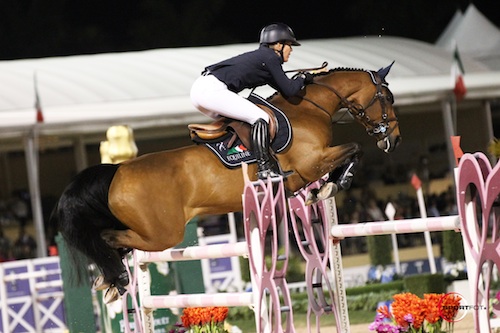 Lauren Hough and Ohlala. Photo by Sportfot.
With a very fast second place finish, Lauren Hough had a great round with her speedy mount Ohlala, and was happy with another top placing this week. She knew she had a good time, but still had a tough competitor to follow.
"You're never certain you're the winner, especially when you have Ben following you with the streak he's been on," Hough admitted, "but my horse has been fantastic all week. She was second in the 'WEF' (Challenge Cup) as well, so we have kind of been knocking on the door, but I was thrilled. I thought Richard did a super job with the course. It suited my horse very well. Perhaps I could have been a bit faster to the last jump, but it was very, very close."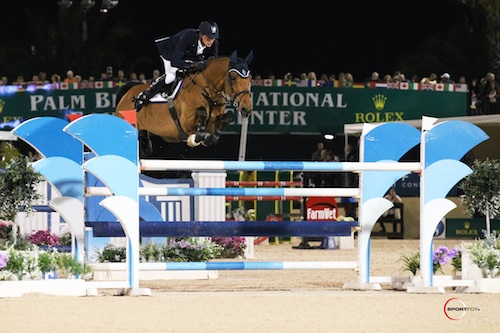 Daniel Deusser Fyloe v/h Claeyssenhof. Photo by Sportfot.

Deusser was also pleased with his mount, Fyloe v/h Claeyssenhof, explaining that this was the horse's first outdoor grand prix. "He did a very good job," the rider acknowledged. "He is a very careful horse. Especially under the lights today he was very impressed with the course. I had to work quite hard in the first round, but the jump-off, that was the best I could do I think. With two experienced combinations behind me, it's always difficult. You never know quite how fast you have to go, but I am very happy with the round. If I think back, maybe from jump one to two I could have done one stride less, but at the end of the day I am very happy with this. I did a few jump-offs in 1.45m classes and a couple of 1.50m's, but he is not too experienced in jump-offs. It was one of his fastest."
 On behalf of week ten title sponsor and presenting sponsor of the evening's class, Horseware Ireland founder Tom MacGuinness and his daughter Lorraine were on hand for a fantastic night of competition.
Tom MacGuinness commented on the growth of the competition at the FTI WEF, noting, "I came here probably 15 years ago when it was a grass ring with a mound of sand where people could sit and watch, and then I came back about six years ago and I saw what was going on here, and I said that this was going to be the best horse show in the world. We had been sponsoring Triple Crown blankets for the presentations, but when I came here that time, I just saw the organization. I felt the determination and the focus that they had to make it the best horse show in the world. It is a fantastic show. It is the best show in the world as far as I'm concerned."
Lorraine MacGuinness explained the incredible contribution that Horseware Ireland has made to this year's circuit at PBIEC by providing the blankets and coolers that are presented to the winners at not only the FTI WEF, but the Adequan Global Dressage Festival (AGDF) as well.
"We did 1,400 blankets for the whole circuit between the Global Dressage Festival and here, so that's a pretty big sponsorship for us; it's a lot of resources," MacGuinness noted. "The printed blankets like Ben won tonight are new for us, and they are unique. No other circuit does them. We did 55 of them with all of the sponsors' logos, and we are really proud of how they work."
Equestrian Sport Productions thanks Horseware Ireland for their fantastic support as week ten of the FTI WEF and AGDF circuits conclude.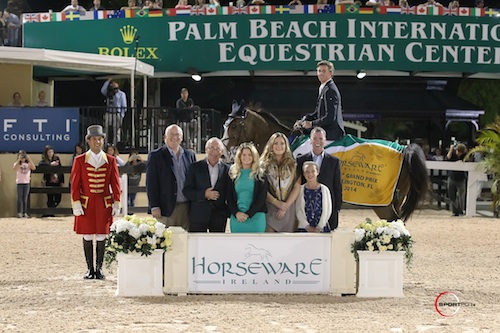 Ben Maher and Urico in their winning presentation with ringmaster Gustavo Murcia, Equestrian Sport Productions President Michael Stone, Tom and Lorraine MacGuinness of Horseware Ireland, with Emma McCabe and Kelly and Jillian Nicholls. Photo by Sportfot.

Final Results: $125,000 Horseware Ireland Grand Prix CSI 3*
1. URICO: 2001 KWPN gelding by Zandor Z x Fedor
BEN MAHER (GBR), Jane F. Clark: 0/0/41.01
2. OHLALA: 2003 Swedish Warmblood mare by Orlando x Cardento
LAUREN HOUGH (USA), The Ohlala Group: 0/0/41.25
3. FYLOE VH CLAEYSSENHOF: 2005 BWP gelding by Burggraaf x Hearbreaker
DANIEL DEUSSER (GER), Stephex Stables and Double H Farm: 0/0/41.53
4. ZORRO: 1999 Hanoverian stallion by Rabino x Westmister
PETER WYLDE (USA), Federico Fernandez: 0/0/42.43
5. ZOE II: 2004 AES mare by Kannan x Goes Without Saying
LORENZO DE LUCA (ITA), Mike Collins: 0/0/42.87
6. JUVINA: 2001 Austrian Warmblood mare by Cassini I x Grannus
GEORGINA BLOOMBERG (USA), Gotham Enterprizes, LLC: 0/0/46.73
7. AD JAC'POTES: 2003 Holsteiner stallion by Caretino
STEPHAN BARCHA (BRA), Stephan Barcha: 1/87.66
8. NEVER SAY NEVER: 2001 KWPN gelding by Heartbreaker x Jus de Pomme
THOMAS DRESLER (DEN), Thomas Dresler: 1/87.89
9. CAMBITO: 2004 Holsteiner gelding by Caretino x Contender
PAIGE JOHNSON (USA), Salamander Farm: 1/88.15
10. ZERLY: 2004 KPWN mare by Querlybet Hero x Carthago
CHRISTINE MCCREA (USA), Candy Tribble: 4/83.90
11. FANANKA A: 2005 BWP mare by Chin Chin x Kannan
EIKEN SATO (JPN), Stephex Stables: 4/83.96
12. CARRIERE: 2003 Oldenburg mare by Catoki x Contango
LAUREN TISBO (USA), Tequestrian Farms LLC: 4/84.23