Lauren Hough and Böckmanns Lazio Lead the Way in $100,000 Engel & Völkers Grand Prix CSI 4*
March 24th, 2014 9:07 AM |
Comments Off

on Lauren Hough and Böckmanns Lazio Lead the Way in $100,000 Engel & Völkers Grand Prix CSI 4*
Press Release
Lauren Hough led the victory gallop in an exciting top four finish for the women of USA in Saturday night's $100,000 Engel & Völkers Grand Prix CSI 4* at the 2014 FTI Consulting Winter Equestrian Festival (FTI WEF). Hough and Böckmanns Lazio topped a six-horse jump-off over Laura Kraut and Nouvelle (2nd), Lucy Davis and Barron (3rd), Lillie Keenan and Pumped Up Kicks (4th), Ben Maher and Urico (5th), and Kent Farrington and Blue Angel (6th).
Watch an interview with Lauren Hough!
FTI WEF week eleven, sponsored by Artisan Farms LLC, concludes on Sunday with the $50,000 Artisan Farms Young Rider Grand Prix Series Final (9 a.m.) and the $84,000 Suncast® 1.50m Championship Jumper Classic (2 p.m.), to be held on the grass derby field at The Stadium at the Palm Beach International Equestrian Center (PBIEC). The FTI WEF features 12 weeks of world-class competition through March 30, awarding $8 million in prize money.
A special ceremony was held before the start of the grand prix to honor Anne Heyman, who passed away from a fall at the FTI WEF this season. Friends and family gathered to honor Anne, who was known for her incredible philanthropy and love for her family and horses. Save the Date for a benefit and concert for Anne's 'village,' the Agahozo-Shalom Youth Village in Rwanda, which will be held on September 13 at Double H Farm in Ridgefield, CT, during the American Gold Cup. For more information, email annesnight@gmail.com.
Olaf Petersen, Jr. (GER) set the track for 45 competitors that qualified to compete in Saturday night's $100,000 Engel & Völkers Grand Prix CSI 4* with seven entries jumping clear to advance to the jump-off. Seven others finished the course with just one time fault in a very tight time allowed. The jump-off saw four double clear rounds.
Ramiro Quintana (ARG) and St. Bride's Farm's Whitney were the first pair to jump clear in round one, but withdrew from the jump-off, leaving 17-year-old Lillie Keenan (USA) to blaze the trail over the short course. Riding Chansonette Farm LLC's Pumped Up Kicks, Keenan set the time to beat at 49.27 seconds, and eventually finished fourth. Twenty-one-year-old Lucy Davis (USA) jumped next and upped the ante with Old Oak Farm's Barron in 47.13 seconds to earn third place honors.
Hot off of a win with Aristo Z in the $50,000 Live Oak Grand Prix CSI-W 2* earlier in the day, Ben Maher (GBR) took to the course next with Jane Clark's Urico. Looking for his sixth grand prix win of the FTI WEF circuit, Maher did have the fastest time of 44.46 seconds, but had a rail down at the second to last fence and would have to settle for the fifth place prize.
Seeing that Maher had a rail encouraged Lauren Hough to go for broke in her round, next to go with Karina Rotenberg's Böckmanns Lazio. Hough knew that two very fast competitors were still to follow and did her best to ensure a top time, blazing through the course in 45.64 seconds for the winning round.
Kent Farrington (USA) and Robin Parsky's Blue Angel were fast, but also had a rail to finish sixth with a time of 46.44 seconds. Last to go, Laura Kraut (USA) and the Evita Group's Nouvelle jumped into second place with a clear round in 46.66 seconds.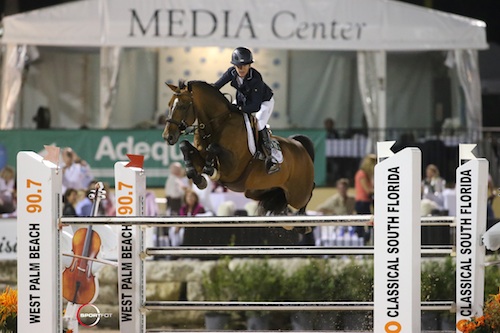 Lauren Hough and Böckmanns Lazio
This was Hough's second win of the circuit with Böckmanns Lazio, a 14-year-old Westphalian stallion by Lancer II x Cor de la Bryere. Hough started riding the horse in the fall and kicked off the circuit with a win in week one's $25,000 Suncast® 1.50m Championship Jumper Classic. Since then the pair has had several top finishes in a quickly developing partnership. Hough explained that the horse had a lot of experience showing under several international riders before her, most recently Cassio Rivetti of Ukraine and Gilles de Balanda of France.
"He is a wonderful animal, and I am really lucky to have the ride on him," Hough praised. "He is 14 now, so he has been around for a while, and he has had quite a lot of success from other riders. I acquired him in October and did a couple of shows in the fall and then started straight away having success down here. He has just been very, very consistent. It was a very good jump-off for him tonight; I could sort of just keep galloping him all the way around. He has a very big stride."
"When it's over nine strides I don't actually like to count," Hough detailed. "Missy Clark, who has been really helpful to me this winter, said, 'You can do nine to the last.' I think Ben did it slowing down, but it looked really far away, so I thought, 'I better keep kicking and not pull.' I think last week I went one too many to the last jump."
Hough breathed a sigh of relief when she saw Maher have a rail right before she went in the ring. "I've been getting a lot of red ribbons lately, which I am very grateful for," she said. "I am very happy to be second with these kinds of riders and this caliber, but it was a little bit of a relief when he had that one down tonight. I still had a lot of fast riders coming after me though, so I knew I had to hit the gas and not let up."
Hough plans to show Böckmanns Lazio in next week's $500,000 FTI Consulting Finale Grand Prix CSI 5* and looks forward to a great final week of competition at this year's FTI WEF. With plenty of mileage and success under the lights, the horse will rest up and then jump one class during the week in preparation for the circuit's finale event.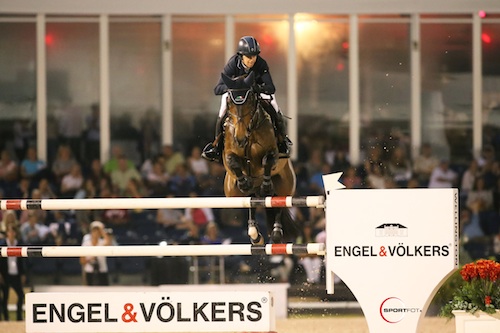 Laura Kraut and Nouvelle
Finishing a close second to Hough on Saturday night, Laura Kraut has had great results with her mount Nouvelle this year after the marecame back from an injury last season. The pair also finished second in week eight's $150,000 CSIO 4* Grand Prix, presented by Wellington Equestrian Realty, and had a fantastic finish Saturday despite the fact that Kraut was briefly not quite sure where she was going in the jump-off.
"I'm so happy with her," Kraut smiled. "This was her second time under the lights. Last week I had a couple down, but they were green mistakes, and tonight she came out and seemed to have it figured out. I'm really pleased with her."
"I rode a little bit slow to the vertical, the last one, because to be fair, I kind of wasn't sure that was the right fence," Kraut laughed. "I didn't get a chance to watch any go because she was a little upset with the music and having just come out of the ring, so I had to stay on her and circle. I was looking at the jump and thought, 'It just doesn't look right,' but then I looked at the number, and said, 'Yeah, it's #6.' I don't think I could have beaten a horse with so much experience though, and Lauren was fast. I think I still would have been second, so I'm very thrilled."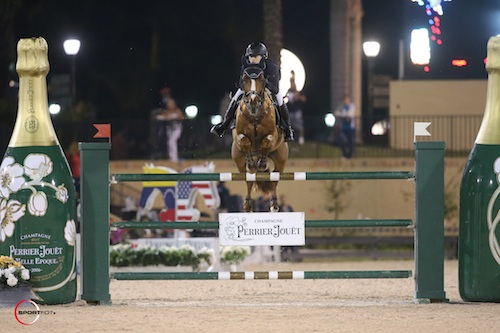 Lucy Davis and Barron
California's Lucy Davis proved that she is a force to be reckoned with when the young rider earned the biggest victory of her career this past September in the Longines Global Champions Tour Grand Prix in Lausanne. Davis and Barron also finished third during FTI WEF week five in the $370,000 FEI World Cup™ Grand Prix CSI-W 5*, presented by Rolex, just behind the number one and two ranked riders in the world.
"I was really pleased with the performance tonight," Davis said after the class. "My horse jumped incredible, again, and I am really lucky to have him. In the jump-off, we were just focused on being smooth. Sometimes I get a little excited and things get hectic, but my trainer Markus (Beerbaum) told me to have a nice, smooth round and I think that is what we did."
All of the riders agreed that the time allowed caused problems for a lot of riders in the night's course.
"I thought it was a good course, but the time was very tight," Hough noted. "I don't know how many were clear with time faults, but obviously that was the biggest factor tonight. We have shown a lot, and we have a big class coming up next week. Some younger horses are coming out, some are preparing for next week, so I think he did a good job. Yes the time was tight, but I think it was doable."
"The course took a lot of concentration," Kraut added. "If you wanted to be under the time, you didn't have three strides to spare. You had to be on it. Every step of the way, to the end and through the timers, there was no letting up. There was no taking a breather. Everyone was pretty tense about how tight the time was. It definitely added an element of difficulty that sometimes is annoying, but I think for tonight it was a good test for the horses that went, and I think it was good."
On behalf of the class sponsor, Engel & Völkers, Carol Sollak and Amy Carr were on hand for the competition, and congratulated the riders on a job well done.
"I loved it," Sollak smiled. "We love everything about the horse show. We love everything about the sport, and we will continue to support it."
"We just started our company in January 2013, so we did up our sponsorship of the horse show this year because we got just a bit of the feeling last year and were quite happy with it," Carr added. "We will continue to support the show. We love this sport, and for sure we will continue."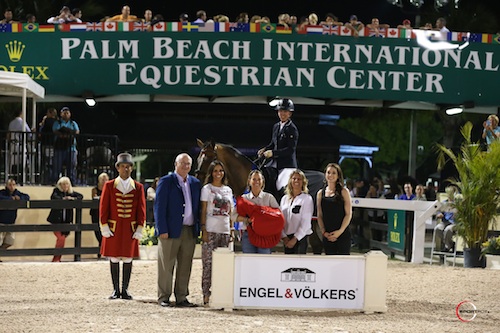 Lauren Hough and Böckmanns Lazio with ringmaster Gustavo Murcia, ESP's Michael Stone, owner Karina Rotenberg, and Amy Carr, Carol Sollak, and Rachelle List of Engel & Völkers
Two other special awards were also presented during the night's class. Davis was named the Leading Lady Grand Prix Rider of week eleven after her success throughout the week's competition. The award is presented by Martha Jolicoeur of Illustrated Properties in memory of Dale Lawler.
A special award was also presented to young rider Sophie Simpson before the class. Simpson was awarded the Potcreek Meadow Farm Junior Sportsmanship Trophy in memory of Candida C. Fortsmann. The trophy is awarded at the end of the FTI WEF circuit to the junior rider that consistently demonstrates outstanding conduct, horsemanship, attitude, and courtesy appropriate for a competitor at the highest levels of our sport.
Final Results: $100,000 Engel & Völkers Grand Prix CSI 4*
1. BÖCKMANNS LAZIO: 2000 Westphalian stallion by Lancer II x Cor de la Bryere
LAUREN HOUGH (USA), Karina Rotenberg: 0/0/45.64
2. NOUVELLE: 2004 KWPN mare by Solitair x Contango
LAURA KRAUT (USA), Evita Group: 0/0/46.66
3. BARRON: 2004 Swedish Warmblood gelding by For Pleasure x Nabab de Reve
LUCY DAVIS (USA), Old Oak Farm: 0/0/47.13  
4. PUMPED UP KICKS: 2003 Brandenburg gelding by Levisto x San Juan
LILLIE KEENAN (USA), Chansonette Farm LLC: 0/0/49.27
5. URICO: 2001 KWPN gelding by Zandor Z x Fedor
BEN MAHER (GBR), Jane F. Clark: 0/4/44.56
6. BLUE ANGEL: 2002 AES mare by Luidam x Ascendant
KENT FARRINGTON (USA), Robin Parsky: 0/4/46.44
7. WHITNEY: 2003 KWPN mare by Indoctro x Concorde
RAMIRO QUINTANA (ARG), St. Bride's Farm: 0/WD
8. CARISMA: 1999 Swedish Warmblood mare by Cardento 933 x Maraton 600
DANIELLE GOLDSTEIN (ISR), Israeli Equestrian Partners: 1/85.42
9. TINKABELL 12: 2005 KWPN mare by Casco x Ekstein
RODRIGO PESSOA (BRA), Rodrigo Pessoa: 1/85.59
10. CYLANA: 2002 Belgian Warmblood mare by Skippy II x Darco
REED KESSLER (USA), Kessler Show Stables: 1/85.69
11. MAKAVOY: 2003 KWPN gelding by Hors La Loi II x Ahorn
BEN ASSELIN (CAN), Attache Stables: 1/86.38
12. WITH WINGS: 2003 KWPN gelding by Larino x L. Ronald
KAREN POLLE (JPN), Karen Polle: 1/87.39