Eric Lamaze and Zigali P S Win $50,000 Ruby et Violette WEF Challenge Cup Round 11
March 21st, 2014 9:03 AM |
Comments Off

on Eric Lamaze and Zigali P S Win $50,000 Ruby et Violette WEF Challenge Cup Round 11
Press Release
Week eleven of the 2014 FTI Consulting Winter Equestrian Festival (FTI WEF) continued in Wellington, FL, on Thursday with a win for Canadian Olympic Gold Medalist Eric Lamaze with new mount Zigali P S in the $50,000 Ruby et Violette WEF Challenge Cup Round 11. Lamaze beat out Italy's Lorenzo de Luca and Elky van het Indihof and USA's Beezie Madden and Simon to take the top spot in a fifteen-horse jump-off.
FTI WEF week eleven, sponsored by Artisan Farms LLC, runs March 19-23, 2014. The $34,000 G&C Farm 1.45m will be held during the day on Friday and the George Morris Excellence in Equitation Championship, presented by Alessandro Albanese, will be held Friday starting at 4:30 p.m. The $100,000 Engel & Völkers Grand Prix CSI 3* will be the feature event on Saturday night at 8 p.m. The grass derby field at The Stadium at PBIEC will host the $50,000 Artisan Farms Young Rider Grand Prix Series Final (8 a.m.) and the $84,000 Suncast® 1.50m Championship Jumper Classic (2 p.m.) on Sunday.
Live streaming of Friday and Saturday night's events will be featured on The Chronicle of the Horse website. The links to view the live streaming are:
George Morris Excellence in Equitation Championship, presented by Alessandro Albanese: http://www.chronofhorse.com/article/2014-george-morris-equitation-live
$100,000 Engel & Völkers Grand Prix CSI 4*: http://www.chronofhorse.com/article/2014-100000-engel-volkers-grand-prix-live
Course designer Olaf Petersen, Jr. (GER) saw 95 competitors over his first round track in Thursday's WEF Challenge Cup. A tight time allowed in the first round yielded ten entries with single time faults and 19 more were able clear the course without fault to qualify for the jump-off. Four entries opted out of the second round, where fifteen continued on over the short course with five double clear rounds.
Jonathan McCrea (USA) and Candy Tribble's Special Lux were first to jump-off and eventually finished fourth with their time of 39.11 seconds. Gabriela Mershad (USA) posted the next clear round in 42.60 seconds to earn fifth place honors with Mershad Stables LLC's Skara Glen's Basel. Beezie Madden was next with Abigail Wexner's Simon, and raced through the course in 38.78 seconds, which eventually finished third. Immediately following, Eric Lamaze and Artisan Farms LLC's Zigali P S stole the lead in 37.59 seconds. The only other jump-off competitor to clear the short course, Lorenzo de Luca blazed through the timers in 37.66 seconds, securing the second place prize with T&L NV's Elky van het Indihof.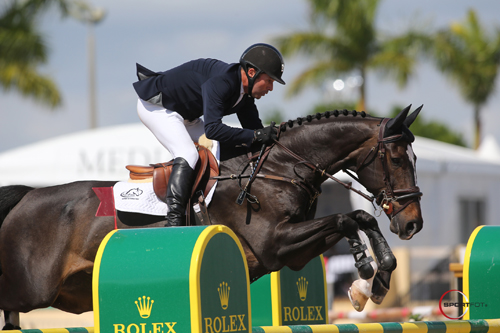 Eric Lamaze and Zigali P S. Photo by Sportfot.

After his win, Lamaze noted that he almost didn't even show in Thursday's class when it started off with a string of clear rounds, but he made the decision to go anyway, and it paid off in the end. "At first I wasn't going to go in because the first four were clear and I am pre-qualified for the grand prix, so I was thinking I was going to do the 1.45m tomorrow," Lamaze laughed. He has a new string of horses this year and is carefully planning each horse's show schedule and taking time to get to know them.
"They are new horses for me. Zigali I just got just before I came here," Lamaze stated. "I liked everything about him from the beginning. He came close to winning a few times this winter, but it just didn't happen. As I get going fast in the jump-off with him towards the end, I need to get to know him a little better, but he is a fantastic horse. He feels to me like he comes back in the second round like a winner. He gets better for the second round."
"I took some time off and Artisan was nice enough to purchase some young horses for me to make up, but I got quickly over that and then wanted to get back in the real sport," Lamaze said of his new starting line-up. "They were so generous to purchase Powerplay for me, which I love, and then Zigali afterwards and Quelmec (du Gery) as well, so I am back with a string of horses to compete."
"Zigali, I can't ask for more," he continued. "I knew the horse was a winner, but this is a time where you can't buy success in a way. In the sport there are great riders, there are great horses, but you have to be a match with a horse. You can't buy success unless you become a match with the horse. I am a great believer in that. With Zigali, as with Powerplay, I think I made a great match with these horses. Powerplay is more of a championship horse. He has big scope and everything else, but this horse is a real competitor for modern day grand prix."
The day's jump-off provided a big track for the horses to really open up their strides and gallop, which suited Zigali and Lamaze perfectly.
"He is so fast," the rider emphasized. "I have yet to even go fast on that horse. It feels great when you have a horse where, it doesn't matter who is leading, you feel like you have a chance to win, and with that horse I really feel like I have yet to even put the full throttle."
In addition to the prize money in Thursday's class, Lamaze earned a special $3,000 bonus as part of the SSG 'Go Clean for the Green' promotion for wearing his SSG 'Digital' Riding Gloves. Each week of the Ruby et Violette WEF Challenge Cup Series, a $3,000 bonus will be awarded to the winning rider if they are wearing SSG 'Digital' Riding Gloves in all rounds of competition with the SSG logo clearly visible.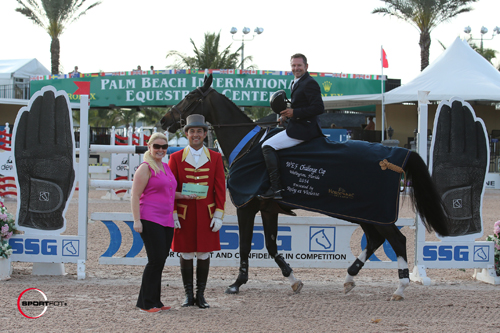 Eric Lamaze and Zigali P S in their winning presentation with ringmaster Gustavo Murcia and SSG Gloves representative Jennifer Ward. Photo by Sportfot.

Also showing in the International Arena on Thursday, an $8,000 G&C Farm 1.45m jump-off class was held in the morning with a one-two finish for Ireland's Darragh Kenny with Spruce Meadows' Quiz and Caroline Lloyd's Sans Souci Z. Alexandra Crown and Zafira topped the Engel & Völkers High Amateur-Owner Jumper speed class.
Final Results: $50,000 Ruby et Violette WEF Challenge Cup Round 11
1. ZIGALI P S: 2004 KWPN gelding by Kigali x Palfrenier
ERIC LAMAZE (CAN), Artisan Farms LLC: 0/0/37.59
2. ELKY VAN HET INDIHOF: 2004 Belgian Warmblood mare by Toulon x Thunder van de Zuuthoeve
LORENZO DE LUCA (ITA), T & L NV: 0/0/37.66
3. SIMON: 1999 KWPN gelding by Mr. Blue x Polydox
BEEZIE MADDEN (USA), Abigail Wexner: 0/0/38.78
4. SPECIAL LUX: 2004 Irish Sport Horse gelding by Lux Z x Coille Mor Hill
JONATHAN MCCREA (USA), Candy Tribble: 0/0/39.11
5. SKARA GLEN'S BASEL: 2002 KWPN gelding by Quick Star x Quatoubet du Rouet
GABRIELA MERSHAD (USA), Mershad Stables, LLC: 0/0/42.60
6. CHEPEPE LA ESCONDIDA: 1998 Mexican Sport Horse stallion by Champion du Lys x Elobet
FERNANDO MARTINEZ-BERLANGA (MEX), Guillermo Zambrano: 0/4/36.78
7. FIRST CLASS VAN EECKELGHEM: 2005 Belgian Warmblood gelding by Balou du Rouet x Feinschnidtt I VD Richter
DANIEL DEUSSER (GER), Stephex Stables/Jos Lansink: 0/4/37.65
8. STAR POWER: 2001 KWPN gelding by Quick Star
IAN MILLAR (CAN), Team Works: 0/4/38.37
9. BROOKLYN BLUES: 2004 Oldenburg mare by Balou du Rouet x Fruhlingsball
YANN CANDELE (CAN), Carol Sollak: 0/4/38.55
10. BLUE ANGEL: 2002 AES mare by Luidam x Ascendant
KENT FARRINGTON (USA), Robin Parsky: 0/4/38.82
11T. TINKABELL 12: 2005 KWPN mare by Casco x Ekstein
RODRIGO PESSOA (BRA), Rodrigo Pessoa: 0/4/40.64
11T. FIRST CHOICE 15: 2003 Hessian gelding by For Keeps x Angard
AIMEE ARON (USA), Janice Aron: 0/4/40.64