Elizabeth Solter and On The Town Take Top Honors in CWD Saddlery Performance 3'6″ Hunters at FTI WEF
March 21st, 2014 9:12 AM |
Comments Off

on Elizabeth Solter and On The Town Take Top Honors in CWD Saddlery Performance 3'6″ Hunters at FTI WEF
Press Release
After over a year away from the show ring, On The Town proved he hadn't missed a step after being crowned division champion of the CWD Saddlery Performance Hunter 3'6″ with Elizabeth Solter at the FTI WEF. Solter, of Berlin, MD, rode the nine-year-old Brandenburg gelding owned by Lysa Burke Horkan to a blue ribbon finish under saddle in addition to second, seventh, and first over fences.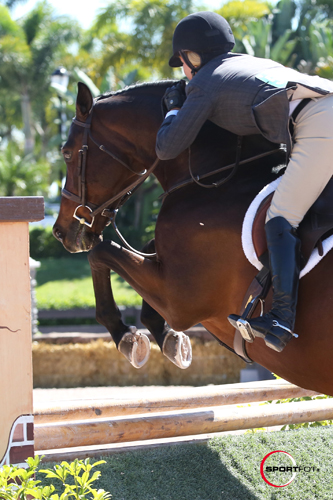 Elizabeth Solter and On The Town. Photo by Sportfot.

Solter has ridden On The Town for several years, contesting the First Year Green Hunter division for the horse's previous owners. The pair picked up several notable wins, including the reserve championship title at the prestigious Devon Horse Show (Pa.). Current owner Burke Horkan then bought the gelding, but took a hiatus from the show ring for the last year and a half and asked Solter to help her get On The Town back in shape.
"He's really like a first year green horse, experience-wise," Solter explained. "Not his attitude or ability, but show ring-wise."
She continued, "He's been good. Each week he's gotten better and better. He has a lovely attitude, a big step, and a really good front end. He's a pretty sweet horse."
Solter described the gelding as consistent and affectionate, with one of the best attitudes of any of the horses she rides. He settled back into life in the show ring quickly, and Burke Horkan hopes to get back in the saddle soon.
"He's one of the most gorgeous horses I've ever seen. He wins the under saddle and jumps outrageously. He's one of the sweetest horses I've ever had. You go in his stall, and he doesn't want to leave!" Burke Horkan smiled.
Solter agreed that On The Town has always possessed a puppy-dog personality, adding that the horse is just as fun in the ring as he is in the barn. "He has a real smooth canter. He's really comfortable to ride, and he's really brave about the jumps. He's got lots of scope. He's really fun to ride," she smiled.
Burke Horkan added, "Elizabeth and I have known each other for more than 20 years, probably close to 30 at least. I love having her ride him."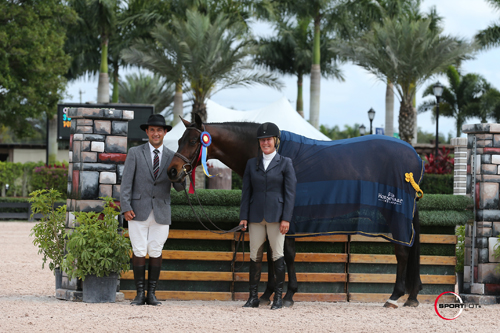 Elizabeth Solter and On The Town in their championship presentation with ringmaster Gustavo Murcia. Photo by Sportfot.