Beezie Madden and Cortes 'C' Win $34,000 Ruby et Violette WEF Challenge Cup Round 8
February 28th, 2014 8:30 AM |
Comments Off

on Beezie Madden and Cortes 'C' Win $34,000 Ruby et Violette WEF Challenge Cup Round 8
Press Release
The 2014 FTI Consulting Winter Equestrian Festival (FTI WEF) continued on Thursday with round 8 of its Ruby et Violette WEF Challenge Cup Series and a win for USA's Beezie Madden aboard Abigail Wexner's Cortes 'C'. The class was held in a timed first round format with 19 clear rounds out of 78 starters with the win for Madden and Cortes 'C', with McLain Ward (USA) and Zander in second, and Rodrigo Pessoa (BRA) and Citizenguard Cadjanine Z in third.
FTI WEF week eight, sponsored by G&C Farm, runs February 26-March 2, 2014, featuring CSIO 4* show jumping and a full schedule of 'AA' hunter and equitation events. The week will highlight the $75,000 Furusiyya FEI Nations Cup™, presented by G&C Farm, on Friday, February 28. There are Hollow Creek Farm classes for Children's, Juniors and Young Riders throughout the week as well as three separate FEI Nations' Cup team events on Saturday, March 1. Many other exciting jumper classes will be featured throughout the week, including Friday's $10,000 G&C Farm Speed Stake and Saturday's $34,000 G&C Farm 1.45m and $25,000 Nutrena Jumper Classic. The week will conclude on Sunday with a $25,000 Suncast® 1.50m Championship Jumper Classic as well as the $150,000 CSIO 4* Grand Prix, presented by Wellington Equestrian Realty.
Steve Stephens (USA) set the speed track for Thursday's $34,000 Ruby et Violette WEF Challenge Cup Round 8 that saw the winning round for Beezie Madden and Cortes 'C' in 65.83 seconds. McLain Ward and Zander completed the second place round in 66.44 seconds. Rodrigo Pessoa and Citizenguard Cadjanine Z set the pace early on in 66.83 seconds to eventually finish third.
Beezie Madden and Cortes 'C'. Photo by Sportfot.

Madden has a great relationship with Cortes 'C' that includes many top finishes in Wellington and around the world, and the rider was happy with their very fast round on Thursday.
"He is a blast to ride. He just does it," Madden described of the 12-year-old Belgian Warmblood gelding (Randel Z x Darco). "You just kind of canter around and steer. He canters to the jump, and he jumps over it. He makes my job very easy."
"It is difficult with a class this big, but I had plan of what I thought I could do with him," Madden said of her round. "He can leave out strides where other horses might not be able to. He did it easily, leaving out the strides, like to the last fence and from jump one to two. It doesn't really get him riled up to do that. He went beautifully, so I was happy."
Madden has a fantastic string of top horses right now, including Cortes 'C', Coral Reef Via Volo, and Simon, who she will ride in Friday night's $75,000 Furusiyya FEI Nations Cup™, presented by G&C Farm. She is also excited about a talented new mount, Breitling LS, who placed third in this morning's 1.45m class.
"I am very lucky with what I have right now," the rider acknowledged. "I have a fabulous young horse that was third today in the 1.45m, so I am really excited about that too. He is coming along really well."
Madden looks forward to Friday's Nations Cup and feels good about Team USA's chances on home turf. "We have a good team. On paper I think we look pretty good, but as we know anything can happen in the Nations Cup," Madden noted. "I think Robert (Ridland) did great picking the team. He's got hot riders and hot horses right now, so that's all he can do. For sure it is important to us to win here. It will be a pressure cooker tomorrow night."
Madden felt that Simon and Cortes 'C' were her top horses to compete this week and chose Simon for the Nations Cup. "He feels good," she stated. "Last week was the first week we showed him, so he feels fresh and ready to go. I had both he and Cortes ready to go this week because I think we were risking a little starting late with Simon, but he came out and he looked great last week, so I am going to go with him."
She spoke about the difference between the two incredibly talented horses, stating, "Simon is funny. He is laid back at home. He is not really more high strung than Cortes, but he gets his blood up a little more, and he takes a stronger hold of me. You have to keep him together, and that's when he makes his best jump. I know his moves a little bit now, and he knows mine, and we work together. He can jump from anything. It's amazing how slow you can go to a big oxer and he sails over. Cortes, he is just the happiest if you can pretty much just steer and leave him to his own devices."
"He is so sweet," Madden added of Cortes. "He loves people. I think he would like to be a lap dog in his next life because when you walk in his stall he just puts his head on your shoulder. That's all he wants to do is be cuddled."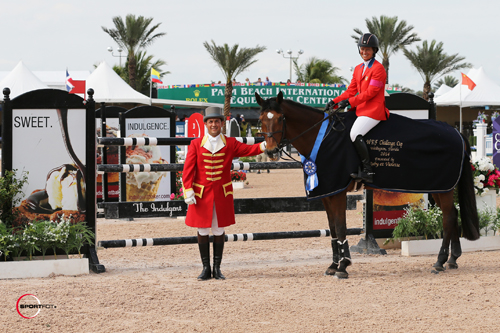 Beezie Madden in her winning presentation (Simon standing in for Cortes 'C') with ringmaster Gustavo Murcia. Photo by Sportfot.

Thursday's competition began with an $8,000 G&C Farm 1.45 jump-off class with a win for Italy's Lorenzo de Luca aboard Mike Collins' Cornetiero. The Hollow Creek Farm Nations' Cup Series also hosted jump-off Classics for its Children's, Junior, and Young Rider divisions in the afternoon.
The $5,000 Hollow Creek Farm Young Rider Classic was held first with a win for USA's Frances Land and Vieanne. The $2,500 Hollow Creek Farm Junior Classic followed with victory for Mexico's Juan Pablo Gaspar Albanez riding Eric Hochstadter's Shamrock V. The day concluded with the Hollow Creek Farm Children's Classic and a win for Brazil's Vittorio Burger aboard Yves Sportiello's Cheese Z.
Final Results: $34,000 Ruby et Violette WEF Challenge Cup Round 8
1. CORTES 'C': 2002 BWP gelding by Randel Z x Darco
BEEZIE MADDEN (USA), Abigail Wexner: 0/65.83
2. ZANDER: 2004 KWPN gelding Cantos x Saygon
MCLAIN WARD (USA), McLain Ward & Grant Road Partners: 0/66.44
3. CITIZENGUARD CADJANINE Z: 2002 Zangersheide mare by Canabis Z x Feinschnitt I Z
RODRIGO PESSOA (BRA), Alain Van Campenhoudt: 0/66.83
4. FYLOE VH CLAEYSSENHOF: 2005 BWP gelding by Burggraaf x Hearbreaker
DANIEL DEUSSER (GER), Stephex Stables: 0/69.53
5. VOLTARAL PALO BLANCO: 2002 KWPN mare by Voltaire x Contender
ALVARO TEJADA ARRIOLO (GUA), Palo Blanco Stables: 0/69.62
6. MARK Q: 2002 Irish Sport Horse gelding by Obos Quality 004 x Positively
KEVIN BABINGTON (IRL), Kevin Babington: 0/69.90
7. SHORAPUR: 2005 Hanoverian mare by Stakkato Gold x Drosselklang II
KEVIN BABINGTON (IRL), Shorapur LLC: 0/71.59
8. DYNAMO: 2003 BWP gelding by Skippy II x Lys de Darmen
MEAGAN NUSZ (USA), Amalaya Investments: 0/71.83
9. RECONNAISSANCE: 2005 Swedish Warmblood gelding by Camaro M x Irco Mena
LAUREN HOUGH (USA), Laura & Meredith Mateo: 0/71.94
10. ROUNDTHORN MADIOS: 2002 Irish Sport Horse gelding by Condios x Clover Hill
LAUREN TISBO (USA), Tequestrian Farms, LLC: 0/72.09
11. MAKAVOY: 2003 KWPN gelding by Hors La Loi II x Ahorn
BEN ASSELIN (CAN), Attache Stables: 0/72.31
12. CONTANGA 3: 2004 Oldenburg mare by Catoki x Contango
ANDRE THIEME (GER), Andre Thieme: 0/72.32  
Robert Bielefeld and Regard Triumph in Low Hunter 2'6″ Division
Robert Bielefeld and Regard took home the division championship in the Low Hunter 2'6″ division on Thursday morning at the FTI WEF. Regard, a nine-year-old Selle Francais gelding out of Hanussa II by La Tot De Semily owned by Leah Patipa, won both over fences classes on the second day of competition for the division to clinch the division title.
Reserve champion for the division was Clementine, ridden by Molly Sewell and owned by Dr. Elizabeth McRae. Sewell and Clementine were first, seventh, and second over fences.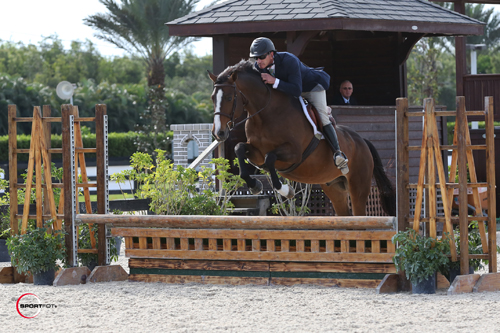 Regard and Robert Bielefeld. Photo by Sportfot.

Regard is yet another former jumper that has found himself more at home in the hunter ring. While he had the scope to jump around a 1.30m course, he simply didn't have the speed.
"He's quite capable, but he's so quiet. I can't imagine him being a jumper. There's no way, so obviously that's why they didn't want to keep him as a jumper. He could jump the height, but he would not be a winner in the jumpers for sure," Bielefeld explained.
Regard's laid-back attitude made it easy to transition him into the hunter ring. The gelding is not only an easy ride for Bielefeld, but he's also proved himself to be the perfect amateur mount for owner Patipa.
"Nothing fazes him," Bielefeld described. "He could go in any one of these rings at the showgrounds. He's really good for his owner, which is even more important."
He continued, "A little short, a little long, he's got enough scope that he can make up the distance. He's got enough scope that he can still make it look correct. That's really the nicest thing about him. You don't have to have absolutely perfect distances every time. He's very forgiving."
Bielefeld, whose RSB Farms, Inc., is based in Wellington, loved Regard from the first time he watched a video of the horse last year. Regard's well-balance canter caught Bielefeld's eye and continues to be one of Bielefeld's favorite traits.
"He has a great rhythmical canter. He's got really good balance and a nice soft mouth," Bielefeld remarked.
Eventually, Regard will move up to the Adult Amateur Hunters with his owner, but until then she will continue to campaign him in the Ariat Low Adult Hunter 2'6″ division while Bielefeld will take over the reins in the Low Hunter 2'6″ division.
Competition for week eight of the FTI WEF continues Friday morning with the USEF Show Jumping Talent Search in Ring 6. The $10,000 G&C Farm CSIO Speed Stake will be held in the International Arena during the day. The highlight $75,000 Furusiyya FEI Nations Cup™, presented by G&C Farm, will be the feature event at 7 p.m. For full results, go to www.showgroundslive.com.