Beezie Madden and Cortes 'C' Take $50,000 Ruby et Violette WEF Challenge Cup Round 12
March 28th, 2014 9:53 AM |
Comments Off

on Beezie Madden and Cortes 'C' Take $50,000 Ruby et Violette WEF Challenge Cup Round 12
Press Release
The 2014 FTI Consulting Winter Equestrian Festival (FTI WEF) continued with its twelfth week of competition at the Palm Beach International Equestrian Center (PBIEC) on Thursday with a full schedule of jumper action in the International Arena. The Ruby et Violette WEF Challenge Cup Series hosted its final leg of the twelve-week series with a win for Beezie Madden (USA) and Cortes 'C'. Darragh Kenny (IRL) and Prof de la Roque won the $34,000 G&C Farm 1.45m, and the young jumpers hosted their first classic of the week.
FTI WEF week twelve, sponsored by FTI Consulting, runs March 26-30, 2014. Friday will host the $15,000 Adequan 6-Year-Old and $20,000 Adequan 7 and 8-Year-Old Young Jumper Classics. The $100,000 Suncast® 1.50m Championship Jumper Series Final and $500,000 FTI Consulting Finale Grand Prix CSI 5* will be held on Saturday along with round one of the $50,000 USHJA International Hunter Derby, which concludes on the derby field on Sunday at 1 p.m.
Live streaming is available on Saturday, March 29, at approximately 6:30 p.m. EST for the $500,000 FTI Consulting Finale Grand Prix CSI 5*. Live streaming will begin with the $100,000 Suncast 1.50m Championship Jumper Series Final Jump-off. Watch here:
http://www.chronofhorse.com/article/2014-fti-finale-grand-prix-live
Anthony D'Ambrosio (USA) set the track for Thursday's Ruby et Violette WEF Challenge Cup competition, which saw 69 competitors in round one with 15 clear rides to advance to the jump-off. Eight jumped double clear over the short course, where Madden and Abigail Wexner's Cortes 'C' blazed through the course in 36.91 seconds for the win, second to last in the jump-off order. The pair surpassed the time of last week's winners, Eric Lamaze (CAN) and Artisan Farms LLC's Zigali P S, who finished second in 37.74 seconds. Jessica Springsteen (USA) had another great finish with Stone Hill Farm's Vindicat W, placing third with their time of 38.19 seconds.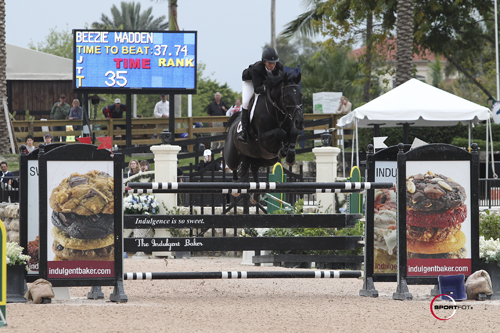 Beezie Madden and Cortes 'C'. Photo by Sportfot.

This was the second win of the series for Madden and Cortes 'C' after the pair also topped the $34,000 Ruby et Violette WEF Challenge Cup Round 8 during CSIO week. They now have their sights set on Saturday night's big class as the finale to the circuit.
"He is fantastic. He just canters around and jumps over the fences," Madden praised Cortes. "He makes my job very easy. I know him quite well right now, so I know where I can leave strides out and I know where I might want to do the normal strides. He is so solid about everything; I feel like I don't have to do this or have to do that, I can do whatever I think is best to jump the course clear."
Detailing her plan in jump-off, Madden noted, "In the beginning I was going to hunt around nice, but then it looked like I could probably take a shot at winning without taking a lot of risk, especially when McLain (Ward) did seven (strides) up the first line as easy as he did on his second horse. I thought if somebody could do it, then I could do it the same. I was just nice back to the vertical and I knew I could take a cut into that double with him, and then the end was kind of how I would have done it anyway even if I wasn't blazing around, so it worked out good for me. I would have done the end the same anyway just to get him to gallop. He goes Saturday night too, so it is good for him to really gallop and set himself up at the fences."
Madden feels good going into the finale grand prix with another win for Cortes and hopes for a good class. "It is nice. Sometimes you wouldn't run a horse before a big class like that, but I didn't think I had to run that fast," she admitted. "He seems to like it, to just be able to go, and it is nice to be able to set the tone for the week and be on a roll."
Madden chose to use Cortes for Saturday night after making the decision to take Simon back to the FEI World Cup Finals this year to defend his championship title. Cortes remains confident showing day or night, and Madden looks forward to a great end to the circuit.
"He has been confident at night," she stated. "I have to say when he was younger the first year here, the night bothered him a little, but knock on wood since then he has been very good at night."
The horse is also very simple to prepare, no matter how big the class. "This morning he got a few bucks out on the lunge line because he had not shown in a while and it was windy and cold," Madden explained. "He never acts that fresh when I'm on him, but he has it pent up sometimes, so it is nice for him to get some bucks out. Then I flatted him and went. He is pretty simple that way. I will probably give him a light day tomorrow and then a flat Saturday morning and go. He is uncomplicated, and we try to keep it that way."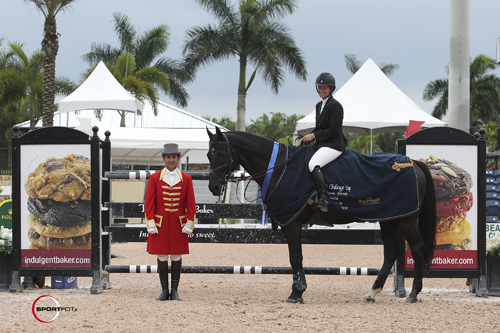 Beezie Madden and Cortes 'C' in their winning presentation with ringmaster Gustavo Murcia. Photo by Sportfot.

Final Results: $50,000 Ruby et Violette WEF Challenge Cup Round 12
1. CORTES 'C': 2002 BWP gelding by Randel Z x Darco
BEEZIE MADDEN (USA), Abigail Wexner: 0/0/36.91
2.ZIGALI P S: 2004 KWPN gelding by Kigali x Palfrenier
ERIC LAMAZE (CAN), Artisan Farms LLC: 0/0/37.74
3. VINDICAT W: 2002 KWPN gelding by Guidam x Libero H
JESSICA SPRINGSTEEN (USA), Stone Hill Farm: 0/0/38.19
4. PIRONELLA: 2005 Canadian Warmblood mare by Non Stop x Pilot
KEEAN WHITE (CAN), Angelstone Partners: 0/0/38.35
5. FYLOE VH CLAEYSSENHOF: 2005 BWP gelding by Burggraaf x Hearbreaker
DANIEL DEUSSER (GER), Stephex Stables: 0/0/38.56
6. Q ROYAL PALM Z: 2005 Zangersheide mare by Quidam de Revel
EIKEN SATO (JPN), Stephex Stables: 0/0/38.84
7. WAOMI: 2003 KWPN mare by Lupicor x Boreas
MEAGAN NUSZ (USA), Amalaya Investments: 0/0/38.91
8. QUIDAM'S CHERIE: 2005 Oldenburg mare by Quidam's Rubin x Lifestyle
CIAN O'CONNOR (IRL), Adena Springs: 0/0/44.34
9. SHOWGIRL: 2000 Selle Francais mare by Gold De Becourt x Elf III
YANN CANDELE (CAN), The Watermark Group: 0/4/37.35
10. TIC-TAC: 2003 Belgian Sport Horse stallion by Clinton x Darco
LESLIE HOWARD (USA), Jane Clark: 0/4/39.38
11. POWERPLAY: 2004 Holsteiner gelding by Casall x Limbus
ERIC LAMAZE (CAN), Artisan Farms LLC: 0/4/39.87
12. CANNAVARO D: 2004 Holsteiner stallion by Caplan x Caretino
MCLAIN WARD (USA), Arnoud Dobber: 0/4/40.29
Darragh Kenny and Prof de la Roque Dash to Victory in $34,000 G&C Farm 1.45m  
A $34,000 G&C Farm 1.45m speed class was held earlier on Thursday with a win for Ireland's Darragh Kenny and Postage Stamp Farm LLC's Prof de la Roque. Seventy-six entries showed in the one round competition with 14 clear rounds. Kenny and the eleven-year-old Selle Francais gelding (Kannan x Damiro B) completed the fastest round in 59.54 seconds for the win.
They were over a full second faster than second place finishers, McLain Ward (USA) and Zander, who stopped the clock in 60.57 seconds. Ronan McGuigan (IRL) and Capall Zidane finished third in 61.49 seconds, and Daniel Dessuer (GER) and Stephex Stables' Domingo placed fourth in 61.54 seconds.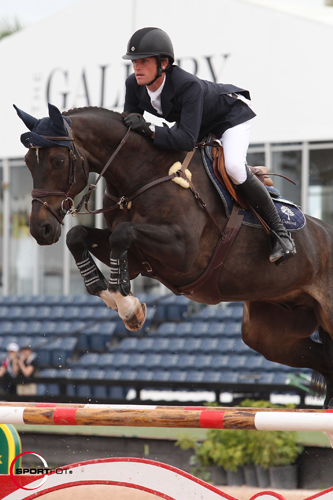 Darragh Kenny and Prof de la Roque. Photo by Sportfot.

Prof de la Roque has had several top placings throughout the FTI WEF circuit, but Kenny noted that this was actually his first win. "It only took 12 weeks to do it," he joked. "He is a super competitive horse. He was second in a 1.50m and he was second, third, and fourth in some of the other world ranking speed classes. He has been a really good horse for me, and today he was fantastic."
"He is a little bit odd, but he wants to leave the jumps up," Kenny detailed. "You can go as fast as you can go with him. You can go so fast, it is unbelievable, and he just wants to miss the jumps. He is actually really easy to ride and he is really fun. He is just better when he is going a lot."
"I couldn't believe I was faster than McLain, actually, because McLain was flying," Kenny said of his round. "I think after the double of liverpools, there was seven strides to the vertical, and then I turned really, really, really tight after that vertical to the next vertical. He is really great because he lands really soft at the back of the jump, so you can turn very tight."
 Speaking about his history with the horse, Kenny explained, "I have had him for a little bit. I jumped him in a couple of world cups during indoors, and now in Old Salem he will jump the grand prix classes and in Spruce Meadows he will jump some of the bigger classes. He jumped one or two grand prix down here good with one down, really unlucky, but he is also great because he can do those classes too and win in the speed classes also. That was his last class of the circuit today, so we went out with a bang."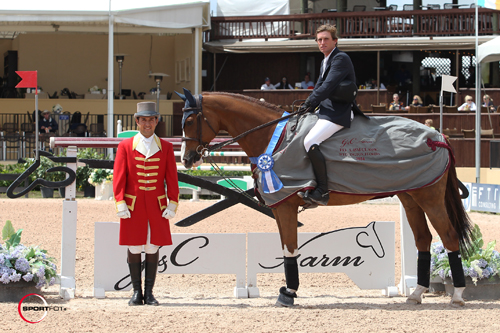 Darragh Kenny in his winning presentation with ringmaster Gustavo Murcia. Photo by Sportfot.

Also showing in the International Arena on Thursday, the $10,000 Gut Einhaus 5-Year-Old Young Jumper Classic was held, awarding top honors to every entry with a clear round. There was an eight-way tie for the championship between Carracci Blue and Christina Kelly, Gotham Enterprizes LLC's Nolita and Vasco Flores, Haylee Jerkins' El Corda and Sarah Sturges, North Star's Char Grey and Rodrigo Pessoa, Gustavo Mirabal's G&C Clemenza and Luis Miguel Martinez, Eldato and Shaine Brooks, Jocky Club DB and Maggie Mcalary, and Windosr Farm Sales' Forget Me Not Windsor Z and Renato Troiani.
Final Results: $34,000 Spy G&C Farm 1.45m
1. PROF DE LA ROQUE: 2003 Selle Francais gelding by Kannan x Damiro B
DARRAGH KENNY (IRL), Postage Stamp Farm LLC: 0/59.54
2. ZANDER: 2004 KWPN gelding Cantos x Saygon
MCLAIN WARD (USA), Grant Road Partners: 0/60.57  
3. CAPALL ZIDANE: 2004 KWPN gelding by Concorde x Baloubet du Rouet
RONAN MCGUIGAN (IRL), Ronan McGuigan: 0/61.49
4. DOMINGO: 2003 Belgian Warmblood gelding by Thunder van de Zuuthoeve x Brownboy
DANIEL DEUSSER (GER), Stephex Stables: 0/61.54
5. UNEX OMEGA STAR: 2002 Irish Sport Horse gelding by Quick Star x Quatoubet du Rouet
TIM GREDLEY (GBR), Unex Competition Yard: 0/62.27
6. BREITLING LS: 2006 Dutch Warmblood stallion by Quintero x Accord II
BEEZIE MADDEN (USA), Abigail Wexner: 0/62.96
7. VESUVIUS: 2002 KWPN gelding by Numero Uno x Expert
MEAGAN NUSZ (USA), Amalaya Investments: 0/64.01
8. WEEZER: 2003 KWPN mare by Drossan x Furinos
EIKEN SATO (JPN), Stephex Stables: 0/64.03
9. BLACK JACK 163: 2004 Hanoverian gelding by Escudo I x Drosselklang II
DAVID WILL (GER), Eveline Kraus: 0/65.28
10. TEIRRA: 2000 KWPN mare by Tolano Van Het Riethof x Aldatus
ALISE OKEN (USA), Hi Hopes Farm, LLC: 0/65.54
11. CORD 11: 2003 Holsteiner gelding by Corrado I x Carpaccio
KEVIN BABINGTON (IRL), Meco Equestrian LLC: 0/66.09
12. HH WHISKY ROYALE: 2005 Zangersheide gelding by Wonderful van't Beugelhof x Kannan
QUENTIN JUDGE (USA), Double H Farm: 0/67.51  
Scott Stewart and Golden Rule Take All in Perfect Products High Performance Hunters at FTI WEF
Scott Stewart and Golden Rule were crowned division champions of the Perfect Products High Performance Hunter division on Friday morning of the final week of the FTI WEF. Stewart and Golden Rule, a 10-year-old Oldenburg gelding owned by Stephanie Danhakl, topped the division after finishing first in three over fences classes and second under saddle. The pair also placed fourth in another over fences round.
The reserve champion for the division was Summer Place, ridden by Haylie Jayne and owned by Pony Lane Farm. Jayne piloted Summer Place to sixth, second, fourth, and second over fences and fifth under saddle.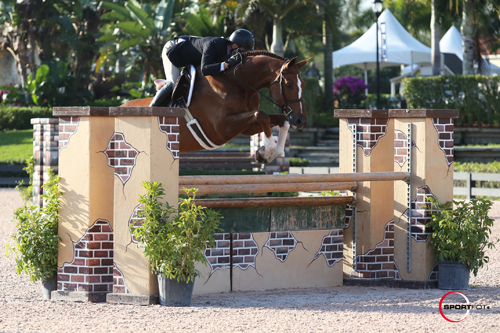 Scott Stewart and Golden Rule. Photo by Sportfot.

Stewart imported Golden Rule at the beginning of 2014 and debuted the gelding during the fourth week of the FTI WEF. Golden Rule picked up one of his first division championships during the most competitive hunter competition of the season, World Championship Hunter Rider Week 6, and hasn't slowed down since. Danhakl, one of Stewart's clients, recently bought the gelding for herself and was division champion of the Bainbridge Companies Amateur-Owner 18-35 Hunter division during week eleven of the FTI WEF.
"He's been great. We got him week four. Week five was his first time. He's been unbelievable. Stephanie was champion last week the first time showing him, so he's been a dream," Stewart smiled.
Stewart carefully chose which weeks to show the horse, making sure to give him several weeks away from the show ring. "This is only his fifth show I believe. So he's not feeling burnt out. This is still all new to him. Yesterday, actually, in the first class he was a little bit too interested. He was a little bit looky. But he doesn't feel like it's Week 12!" Stewart laughed.
Golden Rule has certainly made a statement in his first few months on American soil, and Stewart has been thrilled to see the big chestnut only get better as the weeks go by.
"When he first came, he was so skinny and he had a bridle path that was growing out. When they first saw him, everybody said he didn't look like a horse that I would have," Stewart recalled. "But his expression is so good through the bridle. You know, typically I have a pretty bay or brown horse, but I think he's really attractive going around. I think he's really matured and physically I think he feels stronger and better."
That striking look is what drew Stewart to Golden Rule when he saw him in Europe. "The way he went around, with his ears always forward, always interested. He just had a cool expression. And I thought he was going to be a good mover; he won the hack last week and he was second [this week], and he's really starting to move better and better as he gets stronger," Stewart remarked.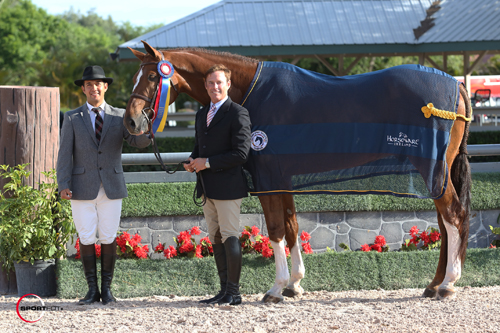 Scott Stewart and Golden Rule in their championship presentation with ringmaster Gustavo Murcia. Photo by Sportfot.

Golden Rule also caught the eye of Danhakl, who recently purchased the gelding after watching Stewart campaign him in the Perfect Products High Performance Hunter division. Of what he thought appealed to Danhakl the most, Stewart said, "I think his rhythm, and he's just so stridey and comfortable."
He continued, "Stephanie's a really good rider and she's got a couple of greener horses this year, and they've been great too, but this one is probably the easiest horse she's ridden."
Golden Rule will take on the Bainbridge Amateur-Owner 18-35 Hunter division over the weekend with Danhakl before resting up for shows in the spring.