Ali Tritschler Tops Platinum Performance USEF Show Jumping Talent Search at FTI WEF
March 1st, 2014 10:02 AM |
Comments Off

on Ali Tritschler Tops Platinum Performance USEF Show Jumping Talent Search at FTI WEF
Press Release
Sixteen-year-old Ali Tritschler of Southport, CT, and her own Helio Rouge bested a field of 42 riders in the Platinum Performance USEF Show Jumping Talent Search on Friday morning at the FTI WEF. Tritschler and Helio Rouge were called back on top of the order to test on the flat before ultimately winning the class. Victoria Colvin and Stallone VDL were second and Megan MacPherson rounded out the top three with Class Action.
Tritschler acquired Helio Rouge, known as "Ranger" in the barn, last November and the pair have quickly formed a solid relationship.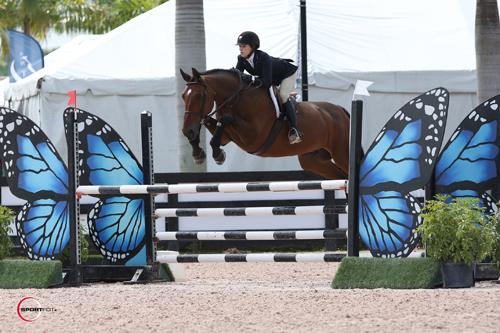 Ali Tritschler and Helio Rouge. Photo by Sportfot.

"He's a lot different than my other horse. He's pretty straight-forward and he's very trusting, so it wasn't too hard [to get used to him]," Tritschler explained. "They both have a really big stride, but [Ranger's] is slow and big, and he also carries himself really well. With my other horse, you have to create yourself a little bit more. [Ranger also] jumps really well, but he doesn't jump hard."
Tritschler was thrilled to win in such good company, beating out many of the country's top equitation riders on her way to the blue ribbon finish.
"It's exciting. I needed my win in this class to qualify, so that was exciting. It's really cool to show against [riders] like Victoria Colvin, Megan MacPherson, and Kelli Cruciotti. They're all really good, so it's exciting when you win. It makes you feel like you're doing something right!" Tritschler smiled.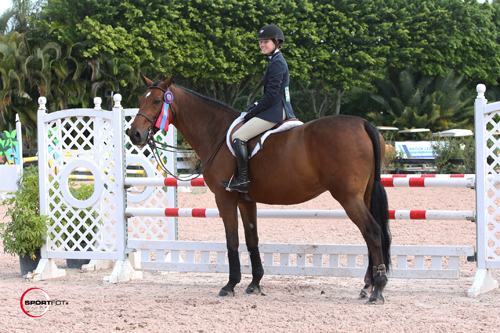 Ali Tritschler and Helio Rouge in their winning presentation. Photo by Sportfot.

Tritschler described her round Friday with Ranger as one of the best trips they've had after suffering from minor mistakes in several of her previous rounds. She looks forward to making a go at year-end finals for the Platinum Performance USEF Talent Search, especially with a veteran mount like Ranger.
"I qualified last year, but I didn't end up going because I was qualified in all the other finals. We didn't end up going because we figured this one was the lowest priority since you can show in it for so much longer and it's just so hard. We saved my horse," Tritschler detailed.
She continued, "I really, really, want to go this year. I was going to show my jumper in it last year, but we didn't want to stress her out. I'm excited to go because Ranger has done it the past two years. It's fun for him; he loves it."
Tritschler enjoys the equitation because of its focus on each individual rider's ability, and also welcomes the extra challenge uniquely presented by the Talent Search.
"Not only are the courses harder and the jumps are spookier, but you also have the open water. For a lot of people that's hard and a lot of horses don't like it, but Ranger doesn't care. It's kind of nice to have a horse that really doesn't care [about the more difficult jumps], so then I can relax. It's definitely one of the smaller classes [because it's so much more difficult]," she commented.
Tritschler, who trains with Norfield Farms' Molly Ashe-Cawley, Chris Cawley, and Timmy Kees, is grateful to have the opportunity to learn from quality horsemen, particularly Ashe-Cawley.
"[I look up to] Molly. She's always so positive. It's never the horse's fault, and she always puts the horse first. She's very good at never being a bad sport, and she's a really good rider," Tritschler concluded.