Alexander Zetterman Wins $50,000 Artisan Farms Young Rider Grand Prix Final; Victoria Colvin Takes Overall Series Victory
March 24th, 2014 9:14 AM |
Comments Off

on Alexander Zetterman Wins $50,000 Artisan Farms Young Rider Grand Prix Final; Victoria Colvin Takes Overall Series Victory
Press Release
Week eleven of the 2014 FTI Consulting Winter Equestrian Festival (FTI WEF), sponsored by Artisan Farms LLC, concluded on Sunday with jumper action on the grass derby field at The Stadium at the Palm Beach International Equestrian Center (PBIEC). Sweden's Alexander Zetterman and Flecu topped the $50,000 Artisan Farms Young Rider Grand Prix Series Final. Victoria Colvin of Loxahatchee, FL, was the winner of the series overall. Great Britain's Ben Maher won the $84,000 Suncast® 1.50m Championship Jumper Classic with Diva II. The ASPCA Maclay sponsored by Sidelines Magazine was held in two sections at the main showgrounds, with wins for Rachael Barnes and Tye Donaldson.
Watch an interview with Victoria Colvin and Alexander Zetterman!
Starting off Sunday's competition on the derby field, Sweden's Alexander Zetterman and Flecu jumped to victory in the $50,000 Artisan Farms YoungRiderGrandPrix Series Final, presented by the Dutta Corporation in association with Guido Klatte
Twenty eight entries showed in the final, with eight entries qualifying for the jump-off and three double clear rounds over the short course. Zetterman and Flecu were the winners with the fastest round in 40.21 seconds. Sarah Hubbard and Chamcara finished second in 42.36 seconds, and Hayley Barnhill and Cara Cheska's Zephire placed third in 43.91 seconds.
Flecu is a ten-year-old Swedish Warmblood gelding by Hip Hop x Flamingo. Zetterman has been showing the horse in bigger classes such as the 1.50m and the WEF Challenge Cup this winter and decided to use the young rider classes to help build the horse's confidence.
"I got him when he was six," Zetterman detailed. "I wasn't overly sure about how far he could go because he has a little bit his own style, but we started off and we won the big seven-year-old young horse final in Falsterbo. He did that very good, and he has been developing along the way. He was just a horse who needed a lot of time to get to the solid 1.50m level, to do it week in and week out. That took an extra year. Last year here, we went up, we went down. We did one 1.50m and then we went down to the 1.40m. We gave him one more year and now he is 10 this year and he has just responded so well. We have never had to play around too much. We have basically been able to go in and do the big stuff, and he has been very good."
"He has been doing quite a lot of tough classes, so it was actually a little bit of a step down for him to do a nice class," the rider noted. "He likes the big grass ring as well, so that was good for him. He is always good in a big field with a lot of galloping. It definitely helps him in the jump-off because he is good at covering the ground."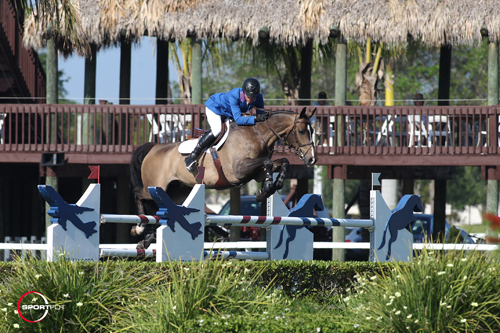 Alexander Zetterman and Flecu. Photo by Sportfot.

Building Flecu's confidence definitely paid off in Sunday's jump-off when Zetterman took a big risk to the last fence that worked out in their favor. "I was a little bit nervous I wasn't going to get there," he admitted. "I kind of felt from the turn that I could get there, but then he was kind of backing off too much, so I started kicking and eventually we got there and he was good."
Although he shows in many big grand prix classes against some of the best riders in the world, Zetterman values the opportunity to show amongst his peers and gain valuable experience under a little less pressure.
"It helps you in so many different ways," he noted. "We all know how difficult the step is from being a young rider and then getting into the seniors. To have a class like this every now and then is nice. When you are going into the jump-off for example, if you are in against some of the best riders in the world, you sometimes do a little bit more than what you or your horse is capable to do. You go a little bit over your head sometimes. When you feel that you are in an equal league, then you have a good feeling and you make better decisions. In that way, it is very good; you have a chance at least. Wilton has been amazing in the big classes and Lillie Keenan and all of those riders, but still, getting in against Ben Maher and those riders is not so easy for anyone in the world to do, especially not when you're young."
Alexander Zetterman and Flecu in their winning presentation with ringmaster Gustavo Murcia, Carlene Ziegler of Artisan Farms, Tim Dutta of the Dutta Corporation, Guido Klatte, and Equestrian Sport Productions President Michael Stone. Photo by Sportfot.

Zetterman showed in one young rider grand prix last year and decided to get more involved in the series this year when he realized the opportunity that the classes provided.
"Many years ago they had a similar series in Europe, but I think for sure this series is a lot better set up," he noted. "It is a little bit like a championship because you have the speed round, a team competition. The team competition was very good out here because you got a bit of atmosphere to it. The semi-final I didn't jump, but the final today was super. It is a fantastic idea, and I think they should do it more in Europe."
Sarah Hubbard, who finished second in Sunday's class with Chamcara, just recently stepped up to the bigger classes and also valued the experience of the series. She is 20 years old and from Cornwall, CT.
"I actually just used her for today. I used my other horse for the speed and the semi-final," Hubbard noted. "I usually use her for the 1.50m and some of the WEF (Challenge Cup) classes. She is really special to me because she has let me move up and do some bigger classes where I have never done anything like that before. It is nice to come in here and jump around on the grass and she was really good. She was really good to me in the jump-off. I kind of got down between jumps nine and ten, and she just tried really hard for me. I am very happy."
Hayley Barnhill (20) of Colliersville, TN, got several new experiences with her mount Zephire in the series and had a great round on Sunday to finish third.
"She is 10 this year, and she has never done anything like this before," Barnhill stated. "She jumped 1.35m in Europe. The Cheskas got her this time last year and showed her a little in the 1.35m and 1.40m stuff. I got her in September and did a few 1.40m classes before I came down here, so this has all been a new experience for her and it has been great to test her through everything. She had never jumped under the lights before and she did that great. We haven't ever jumped on a grass field before and she was great out there, so this was a good experience."
"My plan for the jump-off was to go for it a little bit," Barnhill noted. "I know where I could have been faster; I could have done one less after the wall, but I actually haven't done a jump-off on her all circuit. We were a little rusty on some of the turns, but I thought she jumped great and I was really happy with her."
Sunday's class was the final event in the 2014 Artisan Farms Young Rider Grand Prix Series, which also awarded top prizes on Sunday for its overall standings. Sixteen-year-old Victoria Colvin was the series winner for her performance in all four of the series' events. Jordan Macpherson finished second and Wilton Porter placed third. Jennifer Goddard, Hayley Barnhill, and Sarah Hubbard were fourth, fifth and sixth respectively.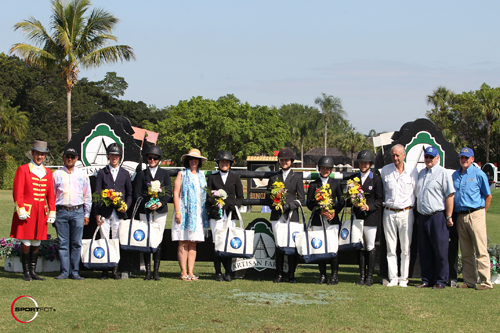 Presentation with the top six riders of the Artisan Farms Young Rider Grand Prix Series: (left to right) ringmaster Gustavo Murcia, Tim Dutta of the Dutta Corporation, Wilton Porter, Jordan Macpherson, Carlene Ziegler of Artisan Farms, Victoria Colvin, Hayley Barnhill, Sarah Hubbard, Jennifer Goddard, Christian Paillot of Jumping Chantilly, Equestrian Sport Productions President Michael Stone, and Guido Klatte. Photo by Sportfot.

As the winning rider of the series, Colvin was awarded free entry to the Chantilly CSI 2* horse show on the Global Champions Tour in France in July, with tickets to the VIP lounge, and transportation provided by the Dutta Corporation in association with Guido Klatte. She was also awarded a custom Bruno delGrange saddle.
"It feels amazing to win," Colvin smiled. "I didn't think I was going to win it. I thought Jordan was going to win it, but I guess my four faults today counted, so that was good. I feel like I have gotten a lot of experience this year. Me and Don Juan are not perfect all of the time, but I think doing all of these classes, and to keep doing them, I think it has gotten a little better."
"We change bits all of the time," she noted of Don Juan. "He is delicate. He is careful, so that's good, but sometimes he is too quiet and sometimes he is too fresh, so we just have to go in and see how he feels that day."
Colvin is excited for the opportunity to travel to Europe for the first time to compete and plans to keep doing what she is doing to get ready. "We will go to the Devon Horse Show and then just keep going until I get there, and we will see what happens. I have never shown in Europe before, so that will be my first time and I am very excited."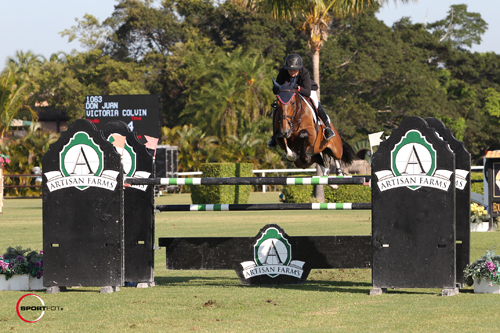 Victoria Colvin and Don Juan. Photo by Sportfot.

Second place finisher Jordan Macpherson (24) is from Toronto, Ontario, and has had great success in this young rider series with her horse Piccobello du Val de Geer.
"Pico is amazing," the rider smiled. "I have had her for four years, and since the first time I stepped in the ring in the young rider series, it has been amazing. I have learned and grown from her. She came out here like a pro and was amazing today. I overachieved the nine-stride a little bit and had a rail, but it happens unfortunately. [My trainers] the Millars are always talking about consistency and if you ride consistent, eventually you will win and start doing well, so I think I have learned that lesson this year."
Wilton Porter (20) of Dallas, TX, also performed consistently with his horse Radio City this year and has earned valuable experience and knowledge throughout the series. "It was a great series," Porter acknowledge. "Radio City was the only horse that I used throughout the series, and she was fantastic. I think the series had a lot more structure to it this year. That's not to say that it wasn't good in the past, but it was really solid on other fronts as well as the jumping this year, with the interview training and the sponsorship opportunity, and I am really thankful to the Zieglers and Dutta Corporation for sponsoring it. This last competition was really special. I think they had a great jump-off. There were just the right number of clears and it ended well."
The winner of the Equiline Young Rider Sponsorship was Chloe Reid of Washington, D.C. Reid was part of a group of riders who wrote an essay, completed interviews, did sponsorship networking, and was observed for attitude, spirit, and performance during the AFYRGP Series. Reid will represent Equiline America by wearing their products, participating in advertising and outreach events, and provide feedback on the functionality of products. Also participating for the sponsorship were riders that were recognized for the following awards: Best Essay – Caitlin Ziegler, Most Creative Essay – Lucas Porter, and Best Interview – Nicole Bellissimo. The Equiline Amateur Sportsmanship Award went to Wilton Porter of Dallas, TX. All of the winners will be presented with their awards next weekend at FTI WEF 12.
Artisan Farms owner Carlene Ziegler commented on the event, stating, "I'm really pleased with the progression of the series. We had some new things this year; we made it more of a true championship. We went through four classes and this was a $50,000 FEI class and that was really exciting. It's been nice to see the riders progressing and we saw a new crop of riders this year. It's really gratifying to see their progress. That's been one of the most gratifying parts. The first year we knew we had a group of strong riders – Reed (Kessler) that won, the group that went to Leipzig, the Coulters, (Caitlin) Ziegler, (Katie) Dinan. They have truly made the next step. Nayel Nassar winning the World Cup West Coast standings. It's really exciting. We hope that happens to the more recent winners as well; we think it could. The trip to Chantilly – one of the exciting things this year is that the winner gets the opportunity to go to Global Champions Tour in Chantilly. It's one of the things that these young riders wouldn't have the opportunity to do. I think that it's a big incentive to the participants in the series. Additionally this year, they had the ability to vie for a sponsorship from Equiline; that's something that they wouldn't have had the opportunity to do otherwise."
Sunday's competition on the derby field also featured the $10,000 Horseware Ireland Don Little Masters Classic with a win for Deborah Ball and Cypriano.

Final Results: $50,000 Artisan Farms Young Rider Grand Prix Series Final  
1. FLECU ALEXANDER ZETTERMAN ALEXANDER ZETTERMAN: 0/0/40.21
2. CHAMCARA SARAH HUBBARD SARAH HUBBARD: 0/0/42.36
3. ZEPHIRE HAYLEY BARNHILL CARA CHESKA: 0/0/43.91
4. RADIO CITY WILTON PORTER SLEEPY P RANCH LLC: 0/4/39.28
5. PICCOBELLO DU VAL DE GEER JORDAN MACPHERSON JEM STABLES INC: 0/4/41.70
6. LUCKY LORD 20 JENNIFER GODDARD STATESIDE FARM LLC: 0/4/44.35
7. LONDINIUM LILLIE KEENAN CHANSONETTE FARM LLC: 0/6/51.40
8. URBAN VIRGINIA INGRAM RIVERVIEW FARM LLC: 0/6/51.61
9. DON JUAN VICTORIA COLVIN BRIGID COLVIN AND KAREN LONG DWIGHT: 4/69.37
10. COSMA 20 ABIGAIL MCARDLE DAVID MCARDLE: 4/70.63
11. OREADE DES DAMES ADRIENNE STERNLICHT STARLIGHT FARMS LLC: 4/72.98
12. WINDE KALVIN DOBBS TREESDALE FARMS: 4/74.08
Ben Maher and Diva II Top $84,000 Suncast® 1.50m Championship Jumper Classic
Ben Maher has been unstoppable lately and added another victory to his tally with a win in Sunday afternoon's $84,000 Suncast® 1.50m Championship Jumper Classic at the FTI WEF. The class was held on the grass derby field at The Stadium at the PBIEC with 53 entries over the Olaf Petersen, Jr. (GER) designed course. Petersen saw ten clear rounds to advance to the jump-off with six double clear rounds. Maher was once again the winner, this time with a new mount in Tatiana Korsakova's Diva II. The pair jumped the fastest track without fault in 43.20 seconds for the win.
Ian Millar (CAN) and Team Works' Star Power finished second in 43.70 seconds. Daniel Bluman (COL) and Alberto & Ricardo Simhon's Apardi placed third in 44.25 seconds.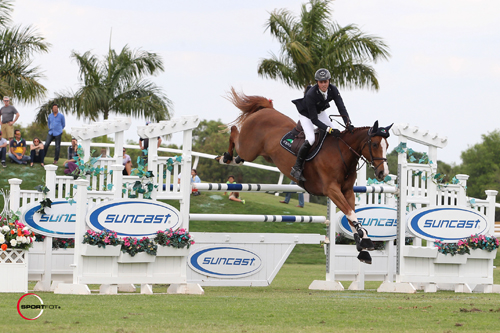 Ben Maher and Diva II. Photo by Sportfot.

Diva II is a nine-year-old Anglo European mare by Kannan x Berlioz that Maher got at the beginning of December. Tatiana Korsakova had previously owned a horse for Maher that got injured and decided to buy him, "a horse to have some fun with," as the rider explained. "I chose Diva and I said that she could be a fun horse, and she seems like she's working out well right now. I had already tried the horse beforehand for somebody else and that didn't come of anything. I always thought the horse was talented. She was with Liz and Ted Edgar in England. They bred her and they had her her whole life, so she has been very well brought up and looked after."
"She had not done a lot for her age," Maher continued. "She was still in the 1.35m division towards the end of last year. Week one or two here, we were in the back ring in the schooling jumpers and she was jumping high and I was having to ride hard because of the shadows and everything, and she has just gradually improved more and more. She has been clear in a couple of 'WEFs' and things in the last two weeks with one or two down in the jump-off when I've gone quick, just where she's not ready. Today I took a chance again because the prize money is so big, and some parts didn't feel so comfortable. In the double we came very hard in on the angle and kind of swerved around a little bit, but luckily it paid off today."
Ben Maher and Diva II in their winning presentation with ringmaster Gustavo Murcia. Photo by Sportfot.

Maher trained with Liz and Ted Edgar for almost two years as a working student, starting when he was 16 years old, before moving on to work with Beat Mändli. He knew that Diva had a great upbringing and saw the mare's potential.
"They know a good horse, and they really believed in this horse all along," he stated. "I think she has a way to go yet; we are only kind of halfway there. She needs to gain a lot of experience, but she's a real mare, she's a fighter and she's always feels like she wants to win as well, which I love in a horse."
This was the second win in two days showing on the grass for Maher after he topped Saturday's $50,000 Live Oak Grand Prix CSI-W 2* in Ocala as well. He noted the refreshing atmosphere of the beautiful derby field in Wellington.
"It has been a great change. We took Aristo up to Chester Weber's Live Oak to support that show yesterday and it was a great arena and grass field, as is this one. It is slightly different here; it's a lot bigger in Wellington, which suited Diva actually. It is just nice; it's great to have a change from the sand arena. Diva in particular hasn't jumped here, but I did jump one class with her on a field, so I knew she was okay on grass. She needed to jump on grass to see if she was comfortable and she certainly felt fine today, so it is nice to know that we have all those options when we go back to Europe now for what shows we will go to. I think everybody loves the atmosphere over here. It is slightly more relaxed, more space for the horses, and the more they can use this arena, the better it will be over here I think."
Maher looks forward to progressing with Diva after they head back to Europe in a few weeks after all of the horses take a break in April.
"We have gone slow with her during the circuit; we just kept her behind the others," he explained. "Obviously I am in a very lucky position that I don't need to rush her. I think she will probably be done for circuit now. Maybe we were going to do one class next week, but maybe we are better to quit while we're ahead. All my horses will pretty much take April off and start up again in May. They have worked very hard for the last few months, so they all deserve a rest."
First, there is one more week of competition still to come at the 2014 FTI Consulting Winter Equestrian Festival. Maher has Jane Clark's Cella fresh and ready to go for next Saturday's $500,000 FTI Consulting Finale Grand Prix CSI 5*. He has won five of the eleven grand prix classes on the circuit so far and hopes to take home the big pay day in the final week.
Final Results: $84,000 Suncast® 1.50m Championship Jumper Classic
1. DIVA II: 2005 AES mare by Kannan x Berlioz
BEN MAHER (GBR), Tatiana Korsakova: 0/0/43.20
2. STAR POWER: 2001 KWPN gelding by Quick Star
IAN MILLAR (CAN), Team Works: 0/0/43.70
3. APARDI: 2005 KWPN stallion by Corland x Kannan
DANIEL BLUMAN (COL), Alberto & Ricardo Simhon: 0/0/44.25
4. EGANO VAN HET SLOGENHOF: 2004 BWP gelding by Electro x Nagano
EIKEN SATO (JPN), Stephex Stables: 0/0/44.67
5. SHORAPUR: 2005 Hanoverian mare by Stakkato Gold x Drosselklang II
KEVIN BABINGTON (IRL), Shorapur LLC: 0/0/44.73
6. UNEX OMEGA STAR: 2002 Irish Sport Horse gelding by Quick Star x Quatoubet du Rouet
TIM GREDLEY (GBR), Unex Competition Yard: 0/0/44.74
7. CITIZENGUARD MILLION DREAMS: 2005 Westphalian mare by Diamant de Semilly x Concetto
RODRIGO PESSOA (BRA), Alain Van Campenhoudt: 0/4/41.87
8. MIMOSA: 2004 Swedish Warmblood mare by Cardento x Quite Easy
SHANE SWEETNAM (IRL), Sweet Oak & Spy Coast Farms: 0/4/44.29
9. SOUTHWIND VDL: 1999 KWPN gelding by Baloubet du Rouet x Ahorn
TIFFANY FOSTER (CAN), Artisan Farms, LLC: 0/4/44.94
10. SOLERINA: 1999 Irish Sport Horse mare by Cruising x Diamond Lad
SHANE SWEETNAM (IRL), Sweet Oak & Spy Coast Farms: 0/8/43.22
11. QUIZ: 2004 Selle Francais gelding by For Pleasure x Laudanum
DARRAGH KENNY (IRL), Spruce Meadows: 4/75.19
12. SANS SOUCIS Z: 2003 Zangersheide gelding by Surrealist v/h Paradijs x Voltaire
DARRAGH KENNY (IRL), Caroline Lloyd: 4/76.74  
Rachael Barnes and Tye Donaldson Triumph in ASPCA Maclay Sections A and B
Barnmates Rachael Barnes, 18, and Tye Donaldson, 15, emerged victorious from Sections A and B, respectively, of the ASPCA Maclay on Sunday afternoon at the FTI WEF. Barnes and Donaldson both train with Missy Clark and John Brennan of North Run, who also enjoyed top finishes in Friday evening's George Morris Excellence in Equitation class, presented by Alessandro Albanese.
North Run continued its winning ways on Sunday morning, first with Barnes, who topped Section A of the ASPCA Maclay aboard Salt Lake, a 12-year-old Warmblood gelding owned by Joe and Mary Tyree. Barnes, of Buffalo, NY, started leasing Salt Lake at the beginning of the FTI WEF circuit and was thrilled with their early success.
Rachael Barnes and Salt Lake. Photo by Sportfot.

"We just immediately clicked," Barnes said of Salt Lake. "It all came together today, and I'm just so happy with him. We get along really well, and he's such a good boy."
Of their quick bond, Barnes remarked, "I tried him in November, and I got on him and it worked out really well. I just knew I could do well on him. He's a little horse, but he has a nice big stride and covers the lines well. He's very adjustable, and I really like that about him."
Salt Lake has proven to be a versatile mount for Barnes, who also contests the Platinum Performance USEF Show Jumping Talent Search, WIHS Equitation, and Pessoa USEF Hunter Seat Medal classes with him. While she enjoys the unique challenges posed by all four classes, she appreciates the type of courses typically seen in the ASPCA Maclay. Barnes also finds it easier to take a breath and stay focused without the pressure of a timer.
"I like that there's no time allowed in the Maclay, so you have time to know what you're doing. I like that there's a lot of bending lines in the Maclay, so you have a lot of options in the course," Barnes described.
Sunday's course offered several different options for riders, which Barnes believed helped her earn a score high enough to be called back on the flat.
"I definitely think the last three jumps [made the difference in my round]. It was kind of like a half circle at the end of the ring. I saw [other riders do] six [strides], I saw sevens, I saw eights. I ended up doing a seven to an easy eight. I think I just really smoothed that out and that made me get called back," Barnes explained.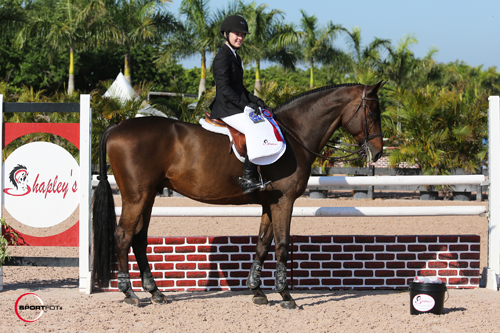 Rachael Barnes and Salt Lake in their winning presentation. Photo by Sportfot.

Donaldson was equally happy with her ride with Cortes 7, a 14-year-old Warmblood gelding owned by Royal Palm Equine LLC. Donaldson, of Chepachet, RI, admitted the course didn't ride exactly as it walked, but her horse's big stride helped her stay steady.
"The last two lines, I walked it an eight [stride] to an eight [stride] and then ended up doing a seven. Most people did eight strides in the second line, but he has such nice big stride and landed left that I just went for seven," Donaldson noted.
She continued, "I really liked the course. I thought it was great. A lot of it was off the left lead, which is easier to land with him, so that was better for us."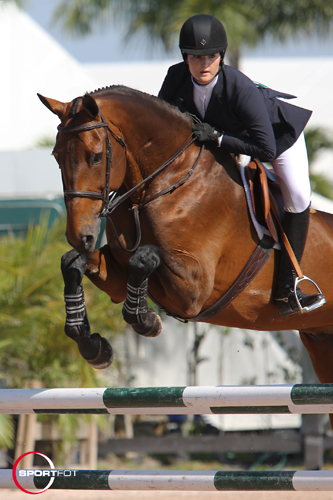 Tye Donaldson and Cortes 7. Photo by Sportfot.

A stand-alone combination with butterfly wing standards tripped up several riders that tried to cut the turn a little too sharply. Donaldson stuck to her plan, knowing if she rode a wider track to meet the jump head-on, Cortes 7 could take care of the rest. She had good reason to put her complete confidence in the gelding; he helped Adeline Audette and Charlotte Jacobs to multiple equitation wins throughout their highly successful junior years.
"He's an amazing horse," Donaldson beamed. "I love him to death. He's an old pro and a good guy."
She continued, "I love his huge stride. He's really nice to get up in a light seat with; he keeps his pace really nicely. He's got a great jump, and he's great to flat. He's pretty much all around an amazing horse."
Donaldson was happy to share her victory with fellow North Run rider Barnes, especially since Sunday marked the first time Donaldson had ever won a class at the FTI WEF. "We're really good friends. It's both of our first time winning this week, and it's my first time ever winning at WEF. I started doing the equitation here last year," Donaldson shared.
Donaldson also expressed gratitude for the entire North Run team's hard work and contributions to her riding. She described Missy Clark's thorough preparation for the ring as one of her favorite elements of the North Run training program.
"I love how Missy gets you to the ring. When she explains [the course] to you, you can see how she wants you to jump every jump, the line and track you're supposed to have. She maps out a great plan for you, and if you follow that, you'll be great," Donaldson smiled.