Alexander Zetterman and Canora Fly to Victory in $10,000 G&C Farm Speed Stake
March 1st, 2014 9:58 AM |
Comments Off

on Alexander Zetterman and Canora Fly to Victory in $10,000 G&C Farm Speed Stake
Press Release
G&C Farm's $10,000 Speed Stake was held on Friday with a win for Sweden's Alexander Zetterman and Canora. Steve Stephens set a difficult track for Friday's competitors that yielded four clear rounds out of 22 entries. Zetterman was the first entry to clear the course with Canora in a time of 67.11 seconds that would hold on for the win. Last to go, Ian Millar (CAN) and The Baranus Group's Baranus finished second in 68.90 seconds.
Chile's Carlos Milthaler finished third in 71.11 seconds aboard Santana Stables LLC's Calvano v/h Harteveld Z. Irleand's Paul O'Shea and Gotham Enterprizes LLC's River Dance Semilly placed fourth in 72.43 seconds.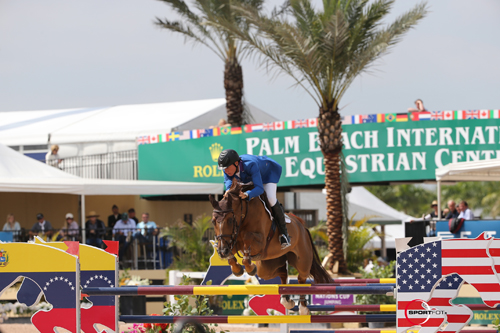 Alexander Zetterman and Canora. Photo by Sportfot.

Zetterman has had Canora, a 12-year-old Belgian Warmblod mare (Baloubet du Rouet x Renville), since September of 2011. He explained that the fiery chestnut is always fast and in it to win.
"She's a superstar," he declared. "She has the exact right mentality. She always knows what she needs to do when she is in the ring. She is not always the best one to ride at home, but she knows exactly when she needs to be clear. She is a very fast mover; not the biggest stride, but very fast. You can go kind of normal fast and still have a very good time, so that is very good to have."
"She doesn't like to be patted all that much," Zetterman described. "She likes sweets, but she doesn't like patting and a lot of attention. She likes to do her own thing, and nobody is allowed to touch her really. When she has a bad round she is angry, so she knows exactly what it's about. She is very much a competitor."
Commenting on the day's class, Zetterman noted, "I thought the course was tricky. It was not like you could go crazy galloping. You had to be careful a little bit everywhere, and if you took one risk at one place, then you kind of got it in another place in the course. I kind of figured that out when I walked the course already. Luckily I have a horse who moves really quick, so even if I stay on a steady stride, I am traveling quite a bit. It was good for me because I could do all of the technical stuff in peace and quiet, and she still covered the ground. We made a couple of turns, and then I just try not to pull too much, and she always has a very good time."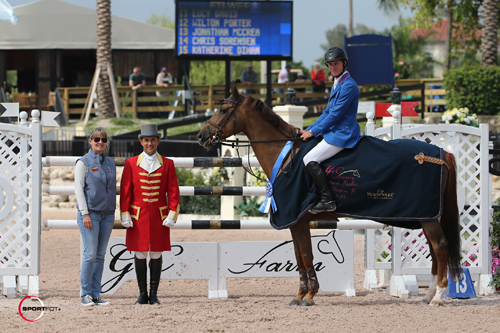 Alexander Zetterman and Canora in their winning presentation. Photo by Sportfot.

"She is getting better and better for every year," Zetterman added. "She is getting stronger and every now and then, I try to to do 1.45m speed classes with her. She wins most money like that and I think she is going to stay sound and healthy for a longer time if I keep her at this level where she is comfortable and try not to push her too hard. She is a good mare and she is hopefully going to be going for many years more."
Also showing in the International Arena on Friday, Laura Chapot and Bradberry earned a victory in the $6,000 Spy Coast Farm 1.40m Speed Challenge.
Final Results: $10,000 G&C Farm Speed Stake CSIO
1. CANORA: 2002 Belgian Warmblood mare by Baloubet du Rouet x Renville
ALEXANDER ZETTERMAN (SWE), Alexander Zetterman: 0/67.11
2. BARANUS: 2003 Oldenburg gelding by Balou du Rouet x Centauer Z
IAN MILLAR (CAN), The Baranus Group: 0/68.90  
3. CALVANO VH HARTEVELD Z: 2005 Zangersheide stallion by Calvaro Z x Nabab de Reve
CARLOS MILTHALER (CHI), Santana Stables LLC: 0/71.11
4. RIVER DANCE SEMILLY: 2005 Selle Francais stallion by Kalaska de Semilly x Ulior des Isles
PAUL O'SHEA (IRL), Gotham Enterprizes, LLC: 0/72.43
5. SI BELLA: 2006 Selle Francais mare by Diamant de Semilly x Digne Espoir
ADAM PRUDENT (FRA), Henri Prudent: 4/68.43
6. APPLE: 2004 BWP mare by Diamant de Semilly x Carnutte
JUAN ORTIZ (VEN), Sarah Bagworth: 4/68.52
7. CON CHILLI: 2005 Holsteiner mare by Con Air x Heraldik xx
DAVID WILL (GER), Sevil Sabanci: 4/71.25
8. AHAVEROS: 2005 KWPN by Hemmingway x Pierrot
HENRIK GUNDERSEN (DEN), Henrik Gundersen: 4/71.73
9. ECKHAM VAN HET STEENTJE: 2004 BWP gelding by Berlin x Kannan
MARGIE ENGLE (USA), Elm Rock LLC: 4/73.45
10. TIZIMIN LA SILLA: 2006 La Silla gelding by Tlaloc La Silla x Polydor
SANTIAGO DIAZ (COL), Santiago Diaz: 4/73.51
11. BARRON: 2004 Swedish Warmblood gelding by For Pleasure x Nabab de Reve
LUCY DAVIS (USA), Old Oak Farm: 4/88.01
12. DIAMONTE DARCO: 2005 Great Britain Sport Horse mare by Unbelievable Darco x Unknown
WILTON PORTER (USA), Sleepy P Ranch LLC: 6/80.81