$5,000 "Jump for the Children" Pony Hunter Derby Classics Crown Champions at FTI WEF
March 10th, 2014 9:00 AM |
Comments Off

on $5,000 "Jump for the Children" Pony Hunter Derby Classics Crown Champions at FTI WEF
Press Release
The pony hunters took to the grass derby field at The Stadium at Palm Beach International Equestrian Center (PBIEC) on Friday for the $5,000 "Jump for the Children" Large, Medium, and Small Pony Hunter Derby Classics during Week 9 of the FTI Consulting Winter Equestrian Festival (FTI WEF).
Hunter and equitation competition will continue through this weekend at the FTI WEF, and a special competition will be held in Ring 6. PBIEC will host the Palm Beach County Special Olympics Equestrian Games this Saturday, March 8, from 9 a.m. to 1:30 p.m. The County Games are the first of three Special Olympics Equestrian competitions in Florida; the Area Games will take place March 22 at The Stadium at PBIEC, and the State Games will be held at Grand Oaks Resort and Museum in Weirsdale on May 2 and 3.
The riders from Vinceremos Therapeutic Riding Center (VTRC) have been preparing all year for the events and will compete in English and Western Equitation, Speed and Agility, and Trail Courses. The classes will range in level of ability from Leadline to Walk/Trot/Canter, and the riders from Vinceremos will be joined by a team of riders from Haiti. Come out to Ring 6 and support our dedicated riders!
Vinceremos is a 501c(3) not-for-profit corporation located in Loxahatchee, FL. VTRC was started in 1982, and provides therapeutic horse-back riding and hippotherapy lessons to children and adults with physical, cognitive, and emotional disabilities. For more information, contact Irma Saenz at info@vinceremos.org.
Danny Moore of Spring Hill, FL, designed the courses for all three pony classics today, which saw the country's top hunter ponies and riders over two rounds of competition.
Thirteen-year-old Emma Kurtz of Hudson, OH, emerged victorious from the Large Pony Classic with Dreamland. In the Medium Pony Classic, it was nine-year-old Mimi Gochman of New York City and True Love who rode away with the blue ribbon. The Small Pony Classic went to Alexandra Pielet of Highland Park, IL, and Secret Love.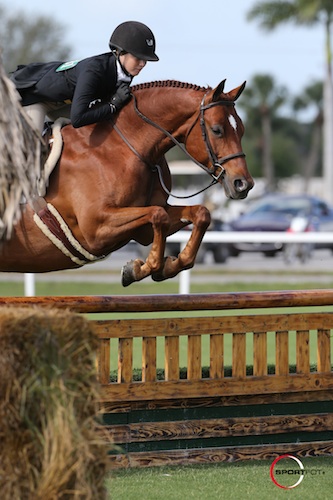 Emma Kurtz and Dreamland. Photo by Sportfot.

Kurtz and Dreamland, a nine-year-old Welsh Pony/Thoroughbred/Warmblood Cross gelding out of Numero Uno by Magical Tale owned by Linda Evans, earned a first round score of 77 before returning for round two and scoring 87 for a high score of 164. Second place went to Freeport and Taylor St. Jacques. The pair scored 81 in the first round and 82 in round two for a total score of 163. St. Jacques also took third place with Devil Mint, who she piloted to an 83 in round one and a 78 in round two for an overall score of 161.
Kurtz enjoyed the opportunity to take Dreamland out on the grass field of The Stadium. It was Kurtz's first time out on the field with Dreamland, although she had competed in a similar atmosphere before on a different pony.
"The courses were really fun! The first one wasn't as smooth as the second one. I was more comfortable going back for the second round. I trusted him more," Kurtz explained.
She continued, "I didn't want to completely trust him [to not do anything wrong], but I knew he would be pretty good [out on the field]."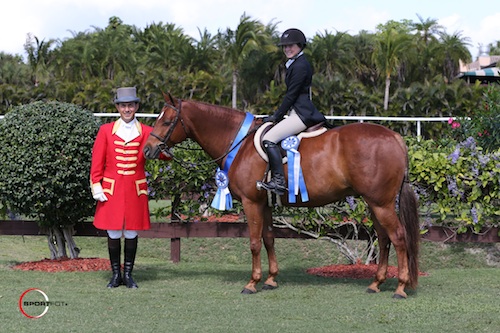 Emma Kurtz and Dreamland. Photo by Sportfot. 
Kurtz has ridden Dreamland on and off for about a year with trainer Amanda Lyerly and enjoys the pony's laid-back character and natural jumping talent.
"He's really smooth around the course. He's got great expression and is really pretty through the bridle," Kurtz described.
Next to visit the winner's circle was Mimi Gochman, aboard David Gochman's True Love, a 15-year-old Westphalian Riding Pony gelding out of St. PR. St. Haupstutbuch by Costolany. Gochman topped the Medium Pony Hunter Classic aboard True Love with a score of 176. The pair earned a first round high-score of 90, followed by an 86 in round two. Second place went to Emma Kurtz and Blackout with an overall score of 168. The pair scored 83 in round one and 85 in round two. Trillville and Hannah Bernstein completed the top three with a total score of 161. Bernstein and Trillville earned a 77 in round one followed by an 84 in round two for the third place finish.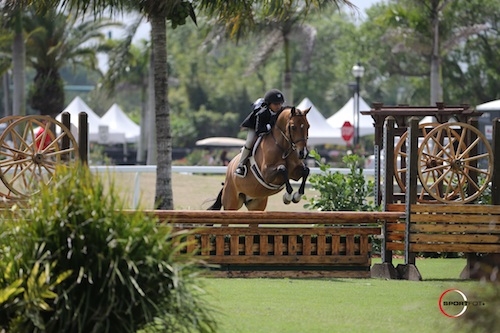 Mimi Gochman and True Love. Photo by Sportfot.

Gochman was thrilled with her win, especially after being nervous going into round two as the rider to catch.
"I feel really great! He was such a good boy and helped me a lot through the course. He was really good," Gochman beamed. "That was my highest score yet. I got [a 90] at Capital Challenge [Md.] and one here, so that was really nice!"
Of going last, Gochman pointed out, "Emma Kurtz was in there with her good pony with an 88 and it was kind of nerve-wracking to be last. What if I chipped the last jump?"
Gochman was confident in her pony's ability to handle the sprawling course since he was a three-day eventer before crossing over to the hunter ring.
The final blue ribbon for the day went to Alexandra Pielet and Secret Love, a nine-year-old Welsh Pony gelding out of Telynau Ballerina by Telynau Royal Charter owned by Back Country Farm. Pielet rode Secret Love to a first round high-score of 86 before following up with an 80 for their second round. Second place went to Tazmanian Devil, ridden by Alexa Aureliano to an overall score just one point shy of Pielet. The pair finished on a 165 after scoring 83 in the first round and 82 in round two. The third place prize went to Kate Taylor and Quicksilver Butterfly for their total score of 157. Taylor and Quicksilver Butterfly earned a 79 in the round one and a 78 in the second round.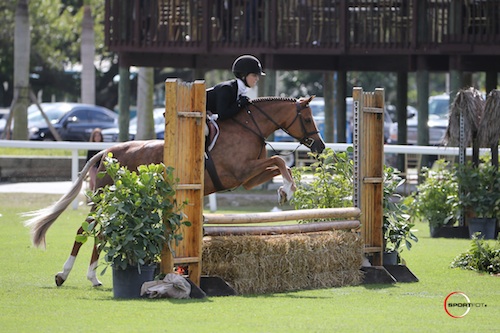 Alexandra Pielet and Secret Love. Photo by Sportfot.

Pielet, who trains with Jill Shulman, was nervous going into the ring with Secret Love since it was only their second time riding on a grass field. She admitted her first round was smoother, but was overall happy with how Secret Love handled the atmosphere on the grass field.
Pielet has been riding Secret Love for the entire FTI WEF circuit in the Small Pony Hunter divisions and particularly enjoys showing off his good looks each week in the model class.
"I love to model him because he's so pretty!" Pielet smiled.
She continued, "He likes to jump really hard, and he jumps very tight, so it's really cool when I'm in the air."
Pielet also revealed that Secret Love is a bit particular about human interaction, but the way to his heart is through his stomach. "He loves treats!" Pielet told. "He only likes his groom [Miguel Gonzalez]."
Full Results for the $5,000 Jump for the Children Large Pony Hunter Derby Classic
Horse Rider R1 R2 Overall
1 DREAMLAND EMMA KURTZ 77.00 87.00 164.00
2 FREEPORT TAYLOR ST JACQUES 81.00 82.00 163.00
3 DEVIL MINT TAYLOR ST JACQUES 83.00 78.00 161.00
4 SMOKE SCREEN KATIE JONES 72.00 80.00 152.00
5 RIVETING LEXI DREISBACH 68.00 76.00 144.00
6 LOVE AND LOGIC ALEXANDRA PIELET 45.00 83.00 128.00
7 FOX CREEK'S ANTONY QUINN CHARLIE ORONA 40.00 68.00 108.00
Full Results for the $5,000 Jump for the Children Medium Pony Hunter Derby Classic
Horse Rider R1 R2 Overall
1 TRUE LOVE MIMI GOCHMAN 90.00 86.00 176.00
2 BLACKOUT EMMA KURTZ 83.00 85.00 168.00
3 TRILLVILLE HANNAH BERNSTEIN 77.00 84.00 161.00
4 GRAND ALL OVER EMMA KURTZ 88.00 68.00 156.00
5 SUPER COOL AUGUSTA IWASAKI 78.00 73.00 151.00
6 CAREBEAR HELEN SWEENEY 73.00 77.00 150.00
7 SOMEKINDAWONDERFUL AUGUSTA IWASAKI 80.00 69.00 149.00
8 HAPPILY EVER AFTER PHOEBE ALWINE 72.00 75.00 147.00
9 TRULY NOBLE MIMI GOCHMAN 74.00 70.00 144.00
10 POWER TRIP FRANCESCA CALAMARI 71.50 72.00 143.50
11 UNEXPECTED JACK WOODSON 72.50 60.00 132.50
12 WOODLANDS STEVIE RAY HANNAH BERNSTEIN 75.00 40.00 115.00
Full Results for the $5,000 Jump for the Children Small Pony Hunter Derby Classic
Horse Rider R1 R2 Overall
1 SECRET LOVE ALEXANDRA PIELET 86.00 80.00 166.00
2 TAZMANIAN DEVIL ALEXA AURELIANO 83.00 82.00 165.00
3 QUICKSILVER BUTTERFLY KATE TAYLOR 79.00 78.00 157.00
4 ROLLINGWOODS KNEE DEEP ZAYNA RIZVI 81.00 75.00 156.00
5 GO FOR THE GOLD NATALIE JAYNE 68.00 86.00 154.00
6 RAFAEL MIMI GOCHMAN 72.00 73.00 145.00
7 SILVER WISHES ALEXA AURELIANO 69.00 74.00 143.00
8 MILLPOND PATCHWORK CORINNE SWEENEY 70.00 72.00 142.00
9 A DREAM COME TRUE GABRIELLE STRIGEL 71.00 68.00 139.00
10 GF FORGET ME NOT ALEXANDRA PIELET 77.00 60.00 137.00
11 GRAND JETE' EMMA SEVING 66.00 66.00 132.00
12 BENJAMIN BUTTONS ERIKA LUTER 73.00 58.00 131.00