Team USA Wins Hollow Creek Farm FEI Young Rider Nations Cup; Brazil and Mexico Top Junior and Children's Events
March 3rd, 2014 8:42 AM |
Comments Off

on Team USA Wins Hollow Creek Farm FEI Young Rider Nations Cup; Brazil and Mexico Top Junior and Children's Events
Press Release
Week eight of the 2014 FTI Consulting Winter Equestrian Festival (FTI WEF) continued on Saturday with a full schedule of exciting show jumping at the Palm Beach International Equestrian Center in Wellington, FL. The Hollow Creek Farm FEI Children's, Junior and Young Rider Nations Cup team events were all held with two rounds each in addition to a $34,000 G&C Farm 1.45m CSIO Jumper Classic and the $25,000 Nutrena Jumper Classic each held during the day.
FTI WEF week eight, sponsored by G&C Farm, concludes on Sunday, March 2, with a $25,000 Suncast® 1.50m Championship Jumper Classic as well as the $150,000 CSIO 4* Grand Prix, presented by Wellington Equestrian Realty. The FTI WEF features 12 weeks of world-class competition through March 30, awarding $8 million in prize money.
Three separate Nations Cup competitions were held for the Children, Juniors, and Young Riders on Saturday thanks to the generous sponsorship of Hollow Creek Farm and the Andrade Family. Competition consisted of two rounds for each division shown over courses set by USA's Steve Stephens. After the first round, each team dropped their highest score. In the second round, all eligible teams returned in order of highest to lowest total faults. The winner was determined by the lowest total of each team's top three riders from each round.
The $10,000 Hollow Creek Farm FEI Young Rider Nations Cup saw a close race between the teams from USA and Germany. The United States returned to defend their title from 2013, while Germany fielded a young rider team for the first time in Wellington this year. In the end, USA earned victory for the second year in a row, finishing on a final score of four.
Germany placed second with eight faults. Mexico finished on a score of 23 in third place. Colombia finished fourth, Canada placed fifth, Ecuador placed sixth, and Brazil finished seventh.
 The winning team from USA included Frances Land (19) and Vieanne, Wilton Porter (20) and Radio City, Lillie Keenan (17) and Londinium, and Michael Hughes (18) aboard Luxina under the guidance of Chef d'Equipe DiAnn Langer.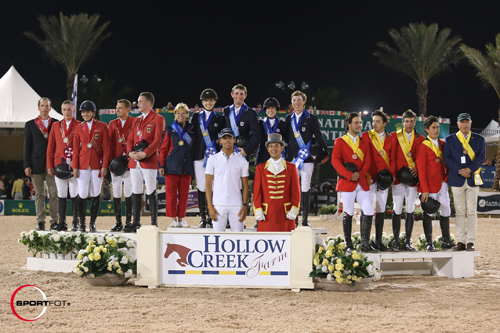 The top three Young Rider teams of USA, Germany and Mexico with Emanuel Andrade
Land and Vieanne had a rail in round one, but returned to jump a clear round in the second phase. Porter and Radio City jumped clear in round one and incurred five faults in round two. Keenan and Londinium had four faults in round one and a clear round on their return trip, and Hughes and Luxina were the only pair to jump double clear to clinch the victory for their nation.
While all four riders have competed in young rider team events before, the Nations Cup was a first for Hughes and Land. Porter competed last year as an individual, and Keenan was a part of the 2013 Junior team. They all know how important it is to get team experience as their riding careers progress and appreciate the support that is given to the Nations Cup event.
"I love team competitions," Land stated. "I think this is a really good experience for us if we have aspirations to jump on the bigger team. It is really fun because we are all friends already and this just makes us have even more fun together. I think it is just a really wonderful opportunity."
"I really love to take advantage of any opportunity to participate in a team event because, I agree with Frances, it brings us together. It makes this individual sport more like a team event, and I really appreciate that," Porter acknowledged.
"I really enjoy team events especially because at the highest level when you go to the Olympics, which is definitely a dream of mine and I would say it is the same for the others sitting with me, you really get a lot of pride from riding for your country," Keenan stated. "I really feel like this is a stepping stone in that direction. It is fantastic; it is an amazing experience, and I was thrilled that we could pull it off."
"I think team competitions are a great opportunity for us to fight with each other instead of against each other because we are always going head to head almost every week and now we are finally on the same team," Hughes pointed out.
Hughes has been partnered with his mount Luxina for three years and explained that he accomplished the double clear rounds by just trying to duplicate his first round effort in round two. The plan paid off for his horse, but others had difficulties with the change in lighting between the two rounds.
"I think the course was a bit spookier under the lights," Hughes stated. "Some horses dealt with it differently than others. Some rose to the occasion, and some just got a little bit greener than others, and experience in some horses came out tonight."
"The experienced horses really were comfortable under the lights, but because we had two rounds and the atmosphere was different, I think that actually worked in the favor of some of us, at least I know it did for my horse," Keenan said. "It can be hard to jump the exact same course twice sometimes because the horse knows where you are going, they know when you are going to turn tight, and they may not be as impressed. To have the added element of the lights, for some horses it could work against you, but I think it definitely worked in our favor tonight."
For some of the U.S. riders, the opportunity to compete against new riders from different countries was very exciting and provided a great learning experience.
"It is a new experience at least for me," Keenan noted. "I have never shown outside of the U.S. and until last year I really had not shown against most of the countries that had come. The young riders and really all of the teams are really strong and last year I think it was a little bit of a shell shock. Coming from the U.S., we usually have a very strong team and I think it is an amazing experience."
"We have to thank the Andrade family for putting this together," Keenan added. "It is an invaluable experience to be able to compete against riders that we don't know, and just because we don't know them does not mean that they aren't better than us. I think tonight we really showed that we have a great program in the U.S., and we are capable of putting together awesome teams."
It was not an easy process to put together this team of U.S. riders, as Chef d'Equipe DiAnn Langer explained. The application process takes all of the riders that apply and looks very closely at their show experience and results in order to select a talented team that can work well together. The process is the same for the young riders as well as the children's and junior teams.
"I think we got the very best teams," Langer stated. "I think it was exciting for all of them. The juniors almost pulled it off, it was just the water experience under the lights. It came out for all of the juniors I think across the board, that it's different, and that is what this experience is all about. I could not be more proud of all of them, and the children, the experience that they got. They just could not believe what was going on. I think all in all this was just a positive experience for them and the sponsors were just fabulous in making this happen."
Porter acknowledged the great effort of the selectors in putting together a great team, stating, "I think it was really special how everyone in the team contributed in some way, and I think that DiAnn and the entire USEF committee did a great job picking the team out because everyone had their strengths and contributed at some point to this victory."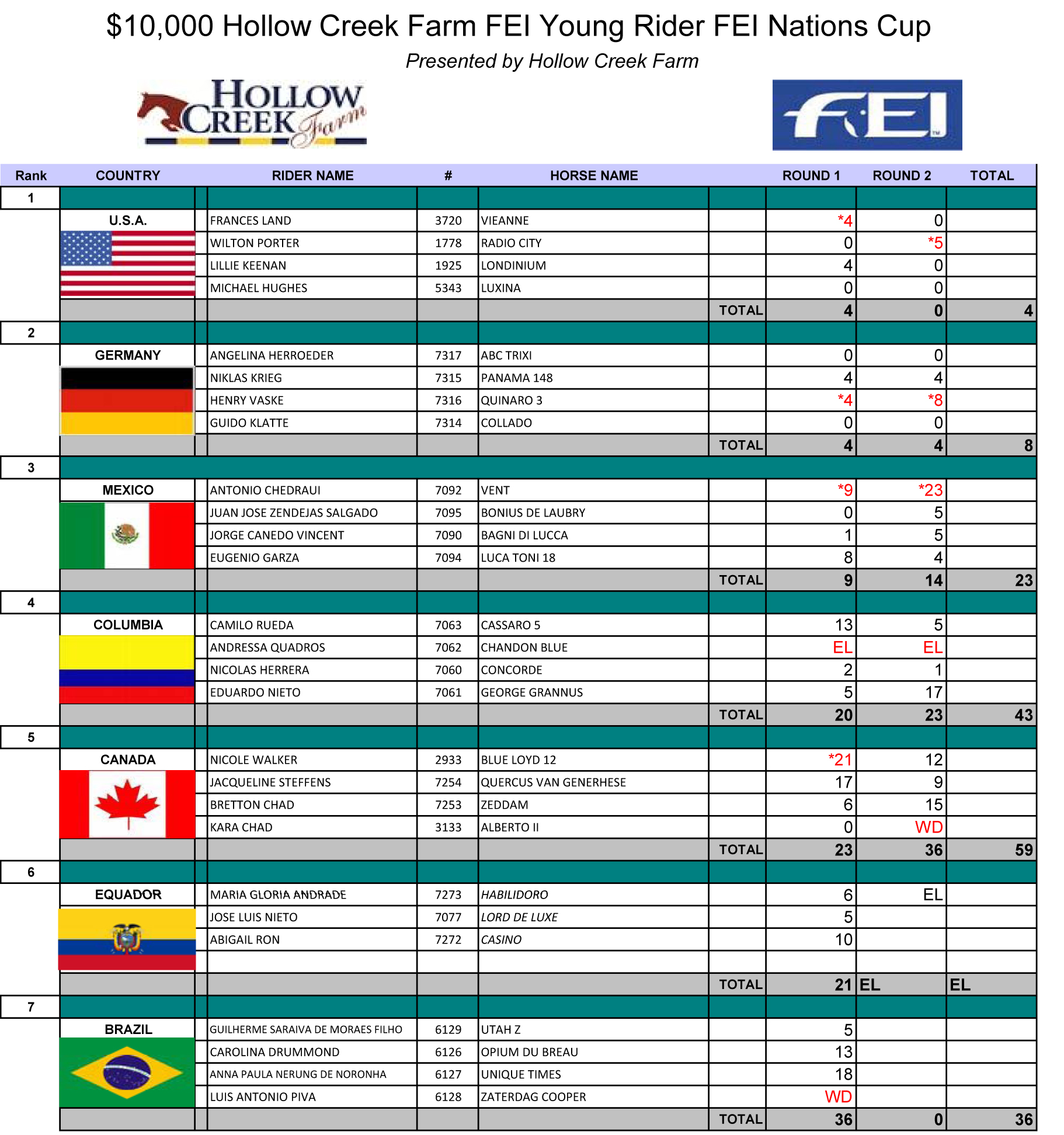 Brazil Tops $2,500 Hollow Creek Farm FEI Junior Nations Cup  
The $2,500 Hollow Creek Farm FEI Junior Nations Cup ran under the lights in the International Arena at PBIEC with five of its original eight teams returning for the second round. In a very tight fight to the finish, the team from Brazil was victorious for the second year in a row, finishing on a score of 11.
The team from the United States finished second with a score of 15 overall. Mexico placed third with an 18-fault total. Venezuela finished fourth, Argentina was fifth, and the teams from Chile and Ecuador did not return for the second round and tied for sixth place.
The team from Brazil was made up of Bianca de Souza Rodrigues (17) riding Abernante, Giulia Scampini (16) aboard Keep On Fighting, Alberto Bento Sinimbu (15) with Sharpova MCJ, and Joao Victor Castro (16) riding Wamira with Chef d'Equipe Caio Sergio de Carvalho.
 Scampini was the experienced rider on her team this year as the only one to return from last year's winning Brazilian team. She helped guide her teammates to victory and enjoyed her return trip to Wellington.
"I am the only one here who could appreciate this victory of two following years," Scampini stated. "It is a reward I think for our effort and for being here in this huge event. I would like to thank everyone, including the sponsors and everyone who worked for us to be here. We had a great team and are always united for Brazil."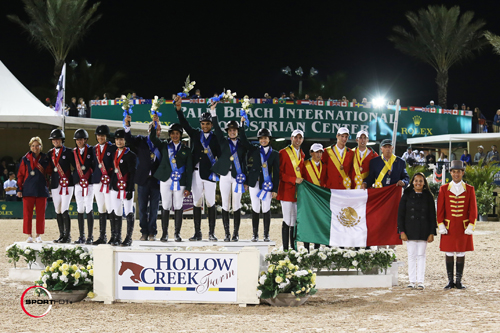 The top three Junior teams from Brazil, USA and Mexico with Maria Andrade
While the other riders on the team all came to Wellington just for this week's competition, Castro has spent his winter at the FTI WEF competing and training with the legendary Nelson Pessoa. His horse, Wamira, had the advantage of more experience showing in the International Arena and was the only horse to jump double clear rounds for the team. For Castro, it was a great to have his friends from Brazil join him in the U.S. for this team event.
"It was very nice. I got to see my friends that I have been missing, and it was very fun," Castro noted. "We have all known each other and have been jumping together for many years."
Rodrigues and Sinimbu were the only two that were experiencing Wellington for the first time and were very impressed with the event. "It is very interesting being here," Rodrigues stated. "This ring is very big. To represent Brazil is something very good for everyone."
"I am here for the first time, and it was a very good experience," Sinimbu stated. "I am very happy."
Chef d'Equipe Carvalho explained that these riders competed throughout the year to earn their places on the team in Wellington. The riders showed in selection trials for the South American Championships in October and were then selected based on those performances. Carvalho noted that the competition was good preparation for the team to come here and that they had a very strong team returning to compete.
The riders noted that the atmosphere between showing in round one during the day and round two at night under the lights caused problems for many riders. Rodrigues in particular had trouble at the water jump with the lights reflecting. Castro added that there were a lot of people watching and taking photos, which changed the atmosphere quite a bit.
Scampini had her experience from last year to draw on, explaining that the course was a little different. "It was lower, and we needed to use more speed," she stated. "Last year it was a bit more technical. The water was definitely a challenge, but we are challenged every time, so we need to be prepared."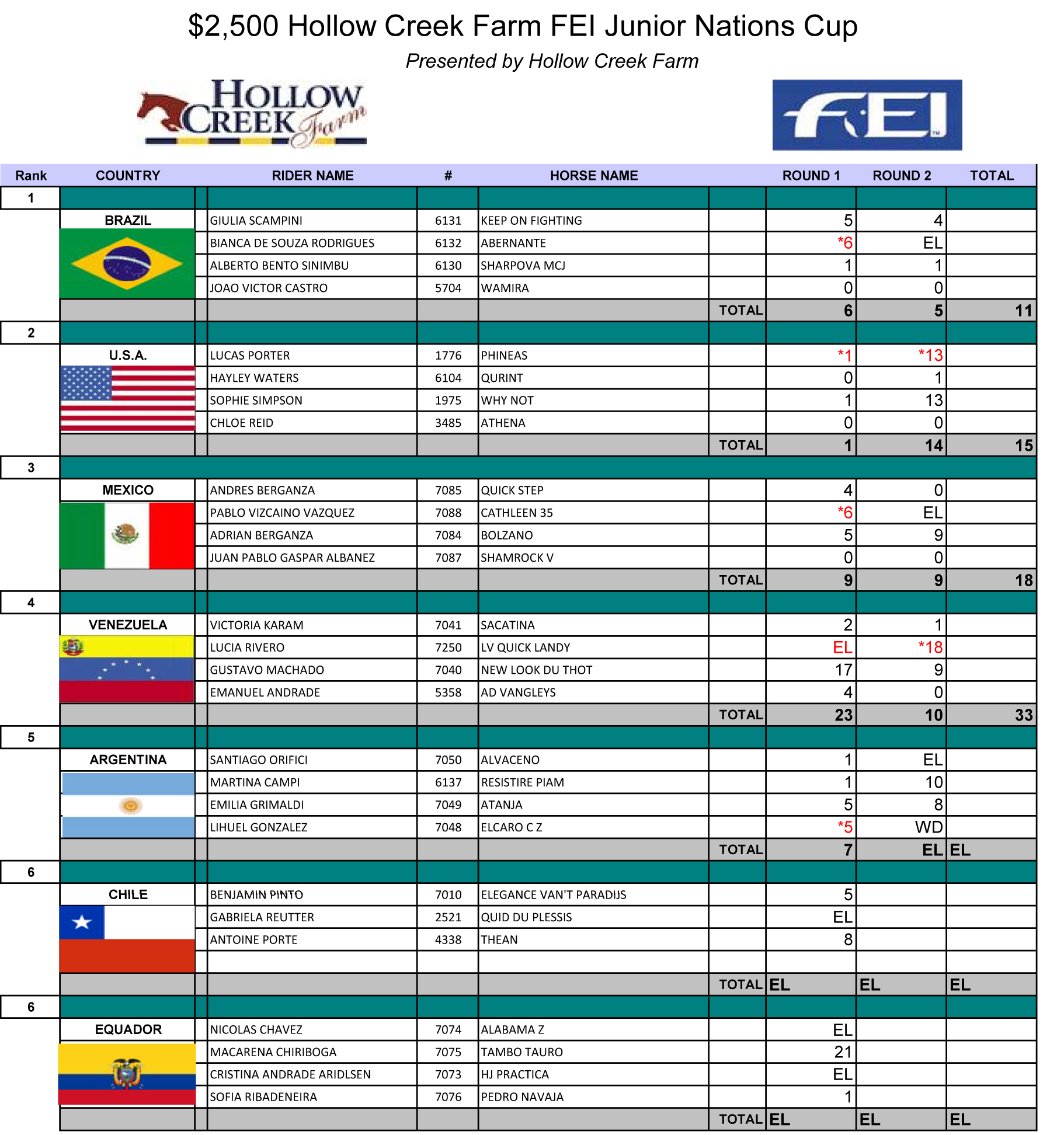 Mexico Wins Hollow Creek Farm FEI Children's Nations Cup
The Hollow Creek Farm FEI Children's Nations Cup saw seven nations compete in its first round with six teams returning for round two. The win went to the team from Mexico, who finished on a score of zero. Brazil finished second on a four-point total, and Venezuela placed third with a score of five. The team from USA finished fourth, Argentina placed fifth, Ecuador placed sixth, and Colombia finished seventh.
Mexico's team was made up of Franco Antonio Gama Quadrini (12) riding Good Girl, Mauricio Huesca Perez (13) aboard Adermie PP, Nicole Meyer Robredo (13) with Acatitlan RM, and Carlos Hank Gonzalez (13) riding Joker. The team was led by Chef d'Equipe Juan Manuel Cossio, who is also the President of the Mexican Equestrian Federation.
"My team did a very good job," Cossio stated after the competition. "The riders all rode very nicely, and the horses were great. The Federation is proud of them, and we want to say thank you for this opportunity."
In round one, Quadrini had the drop score of eight faults and Perez, Robredo, and Gonzalez all jumped clear rounds to advance faultless into round two. In the second round, Quadrini, Perez and Robredo all cleared the course without fault, and it was determined that Gonzalez did not need to return, as the team would already finish on a score of zero.
"This means a lot to me because it is my first time on a team for a Nations Cup," said Gonzalez. "It feels great and thank you."
"I feel relieved and excited," Robredo noted. "It is also my first time and I think we have a very good team, so I am really happy."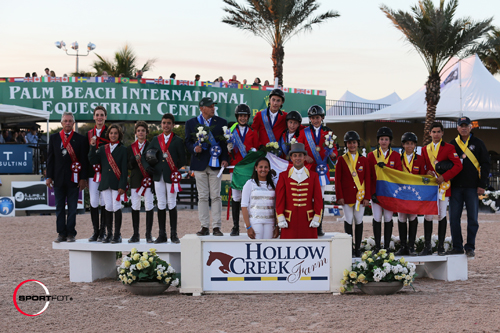 The top three Children's teams from Mexico, Brazil, and Venezuela with Maria Andrade
The riders all traveled to Wellington just for this week's competition and had never been to the FTI WEF before. They described the show as "amazing" and different from anywhere they had been before. This was the first time showing on a Nations Cup team for all of the riders and a fantastic win for the emerging talent of Mexico.
"I feel very proud of our team because we won," said Quadrini. "This is not something easy, so we did it very well."
Perez added, "I feel very good. We have a very good team and thank you for everything and congratulations."
Leading rider awards were also presented for each division for the overall performance of the riders throughout the week's competition, including their Welcome Stakes, Classics and first round Nations Cup performance. In the children's division, the top rider was Brazil's Pedro Malucelli Egoroff. In the juniors, Mexico's Juan Pablo Gaspar Albanez was the champion. Juan Jose Zendejas Salgado of Mexico topped the young rider division.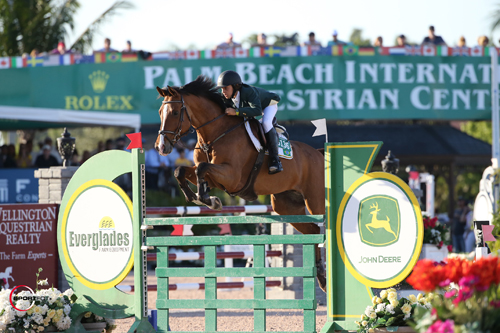 Top children's rider Pedro Malucelli Egoroff and Anton 64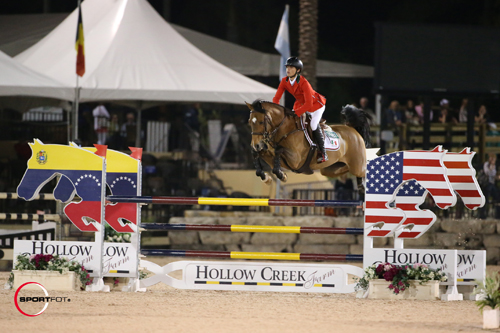 Top junior rider Juan Pablo Gaspar Albanez and Shamrock V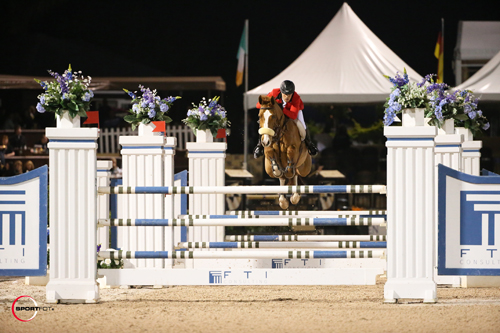 Top young rider Juan Jose Zendejas Salgado and Bonius de Laubry